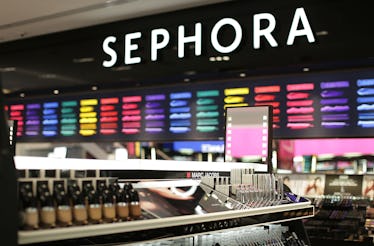 How To Shop At Sephora & Not Lose Every Penny You Have To Your Name
Mark Metcalfe/Getty Images News/Getty Images
Whenever I imagine Sephora, a brightly lit beauty wonderland with designer fragrances wafting and energetic employees pulsating, I feel uneasy. To clarify, I actually feel like Rabbit at the beginning of 8 Mile, excited but anxious at the prospect of potentially seizing everything I ever wanted in one moment. How to shop at Sephora without needing to sell your family members is a serious issue for everyone, even the most casual of beauty consumers.
Think about it. Sephora's pulse is simply electrifying. Once I step inside, my palms are sweaty, knees weak, arms are heavy. I'm nervous, but on the surface I look calm and ready. As I try to remember my own name (and my budget), upbeat music serves as an idyllic soundtrack to what's bound to be a wanton shopping adventure.
Strolling through the aisles and resisting the urge to buy everything that catches your eye can pose quite the challenge. Especially when you take in Sephora's mammoth array of almost 300 brands in-store and online, in addition to what seems like an infinite amount of products. But while it may not seem like it — especially now that holiday season is rapidly approaching — it is possible to enjoy Sephora's offerings and leave with your wallet intact.
Elite Daily spoke with Sephora PRO Artist, Eliza Davila, to learn how to lose yourself in the moment without going for broke. Here's how to capture it —and not let it slip.