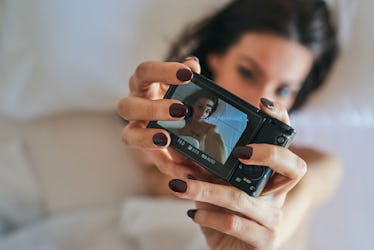 How To Send The Perfect Sext To Someone You Just Started Dating, Because It Can Be Tricky
It's probably safe to assume that as long as humans have the ability to do so, sexting will remain a favorite global pastime. After all, what better way to get it on than by being direct and dropping some not-so-subtle hints that you're DTF? But before hitting send, there are several things to consider when trying to figure out how to send the perfect sext to someone you just started dating.
"There are so many elements to sexting (it's simply another form of sexual and relational communication) that you're likely to find parts of it that appeal to you," sexologist and relationship expert, Jessica O'Reilly, told Elite Daily.
Putting yourself out there to someone you're still getting to know can definitely be nerve-racking, especially since relationships in the early stages often lack the comfort and trust level of more developed partnerships. However, if you're vibing with someone and aren't afraid to be bold, a bit of sensual banter can most definitely set the stage for some passionate IRL hookups. Even if the thought of sending a nude to someone you aren't official with sends a shiver down your spine, don't panic.
"Sexting need not only be explicit images," said Dr. Jess, who's also the host of the @SexWithDrJess podcast. "You can send flirty messages, voice notes, and even flirtatious video clips."
To ensure your sexting game is as strong as possible, here are some things to take into consideration when sexting a new bae.