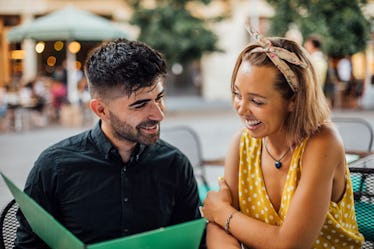 Here's How To Be As Genuine As Possible On A Date, So They See The Real You
Confession time: I'm a super-nervous dater. Although I may come off as a gregarious extrovert, it's all a carefully crafted web of social skill lies. Under the witty banter, I'm secretly in a cold sweat, because I'm terrified that at any moment, there will be an awkward silence and I'll be outed as the closet introvert I truly am. So, when experts offer up advice on how to relax and be yourself on a date, I, for one, am all ears. Not only because I'd like to lower my pre-date blood pressure, but because I know that when I'm nervous and putting on this front, I'm not actually letting my date get to know the real me. Which kind of defeats the purpose of going on a date in the first place, right?
Normally when I'm nervous, I live by the mantra of "fake it until you make it." While that attitude definitely has its place, it's not actually great advice for a first date, where you want to be as authentic and real as possible. If you're ready to get real and maybe even (gasp!) enjoy a first date or two, it might be wise to learn some tricks and tools to help you shake off the nerves. To help with that, I reached out to relationship and dating experts. Here's what they had to say about relaxing and just being yourself on a first date.