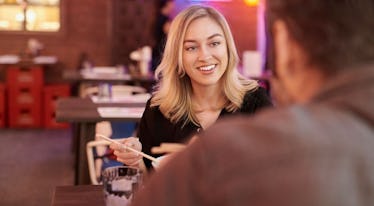 4 Tips For Being Yourself On Dates, Because You're Rad & Should Show That Off
A first date can be nerve-wracking. You want to be vulnerable and open in order to give the person a good sense of who you are, but at the same time you want to protect your heart in case things don't work out. To help navigate this tension, I reached out to some matchmakers for their tips for being yourself on dates.
According to Tawkify matchmaker Marina Brenner, being yourself starts with building a sense of inner-knowing. This is the knowledge that "you are amazing the way you are and the right person will appreciate you being exactly who you are." There are all sorts of different ways to remember how amazing you are, whether it's through mantras, positive affirmations, or deep breathing exercises. Even the act of meeting different people can help you build your self-esteem, if you think of dating as an exercise in not only getting to know someone else better, but yourself as well.
Of course, everybody's feelings of self-worth get a little shaken up now and again. But when you lose your centeredness, there are a few different ways to return to a more solid sense of self. Brenner suggests reminding yourself "that the person in front of you is likely also uncomfortable and trying to impress."
Here are some other practical tips that might help you while you are on the date itself.