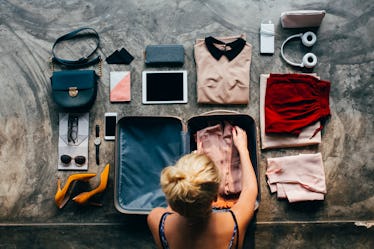 The Girl Who Always Overpacks Needs These Genius Hacks In Her Life ASAP
Packing for a trip can be daunting. On the one hand, you want to avoid packing too much. On the other hand, you want to be prepared for every single scenario. It can be absolutely overwhelming to cram everything you need into a bag for the duration of your trip, and the absolute last thing you want to do is overpack. In the end, overpacking can really put a damper on your trip. Don't worry, though. It's not too late for overpackers to learn how to pack light.
Travel is so much fun, but sometimes preparing for a trip can be so stressful. After all, where do you even start? What if it rains? What if it snows? What should you leave behind? How many pair of shoes should you bring? Should you bring a backpack or a suitcase? What if you need everything in your closet? There are so many questions and "what if's." Sometimes it feels safer to bring all of the things, but that couldn't be further from the truth. There's nothing like arriving at your destination to discover you brought way too many things. Overpacking can leave you feeling weighed down, and that's the exact feeling you want to avoid when you're traveling.