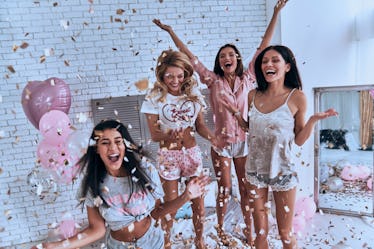 Follow This Bachelorette Packing List So Your #BrideSquad Has The Best Time Ever
g-stockstudio/Shutterstock
Prepping for a bachelorette party weekend can be... intense. There are a lot of details that go into making sure that everyone is happy, from the maid of honor, to the mother of the bride, to of course, the bride herself. But no matter what your role is in the planning process, knowing how to pack for a bachelorette weekend trip is an absolute necessity to ensure that you — and the entire #BrideSquad — have an awesome time.
Things like a neutral pair of fancy heels and a breezy day-to-night dress should definitely be on your packing list. Plus, you're going to want to bring home some memories, so an instant camera should find its way into your bag, too. There are a million things to think of when you're helping plan the epic bachelorette party of a lifetime, but with an easy reference like this list, it should make your packing routine a lot less stressful. After all, you want to make sure you can focus on keeping the bride happy all weekend long.
Make sure that you and your #BrideSquad keep these seven things in mind when you're packing up for the most unforgettable bachelorette party weekend ever.