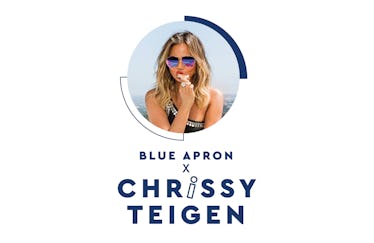 You Can Order Chrissy Teigen's Recipes On Blue Apron Soon & I'm Already Hungry
Within the past few years, I've purchased, like, seven or eight copies of Cravings by Chrissy Teigen. I was able to snag the cookbook for myself, I bought one for my mom, and I sent several to my friends on their birthdays. It's really fantastic, if you've ever gotten the chance to flip through it. Anyway, I know finding the time to buy ingredients and follow a recipe from start-to-finish can be difficult — but Chrissy Teigen's recipes are conveniently going to be featured on Blue Apron this summer, so you'll have all of her recipes and ingredients at your fingertips. Here's how to order Blue Apron x Chrissy, if your body is ready. I know mine is.
Blue Apron announced a partnership with Chrissy Teigen on May 10, and it's called Blue Apron x Chrissy. TBH, it's everything I could ever want (and more). For six weeks starting on June 4, customers can receive one box per week, which will include one recipe by Teigen and all of the ingredients you'll need to make it. The first five weeks consist of recipes from Teigen's first book, Cravings, and the last week's recipe will be derived from Teigen's soon-to-be published cookbook, Cravings 2. Yep, that's right — you'll get a sneak peak at a little content from her not-yet-available masterpiece, and I am beyond excited. TBH, I can't even contain myself right now.
To get yourself all signed up for Blue Apron x Chrissy, go to the "Cooking With Chrissy" section on Blue Apron's website. You'll create an account on the website if you haven't already, and you'll choose between a two-person plan or a family plan. You can also opt for vegetarian meals, if that's more your vibe. After selecting what you want, and entering your contact and personal information, you'll be good to go. The site is currently offering $25 off the first two boxes ordered, so definitely order them RN if you're down to save a little cash.
If you're interested in what kinds of things you'll be making (because I totally am), here's the recipe lineup.
Week of June 4, 2018: Garlic and Soy-Glazed Shrimp with Charred Broccoli, and Hot Green Pepper Sauce
Week of June 11, 2018: Sesame Chicken Noodles with Bok Choy
Week of June 18, 2018: Chinese Chicken Salad with Crispy Wontons
Week of June 25, 2018: Chicken Lettuce Cups with Sweet Peppers, Mushrooms, and Jasmine Rice
Week of July 2, 2018: Chipotle-Lime Chicken Fajitas with Mushrooms, Monterey Jack, and Crema
Week of July 9, 2018: Pork Banh Mi Sandwiches with Pickled Cucumbers and Carrots
Um, OK... YUM. That sounds amazing, and I'm totally drooling. Teigen is obviously super excited about her partnership with Blue Apron too, as she explained in the press release. She talked about her love for cooking, as well as her passion for sharing her tips and recipes.
In a statement, Teigen said,
It's no surprise to anyone that I love cooking at home. I'm constantly experimenting with new recipes and sharing both my hits, and my misses! I am excited to partner with Blue Apron to share some of my favorite recipes directly with my fans, followers, and home cooks, making it easy and convenient for them to cook with me in their home kitchens.
Regardless if you prefer to chef it up from time to time, or if you happen to be more of a Seamless addict, each of the Blue Apron x Chrissy meals look super doable (and, not to mention, absolutely delicious). I'm way too excited about this, and I'm literally ordering my six boxes as we speak. Get ready for the most delicious summer of your life, because Teigen is pretty much going to be catering all of it.