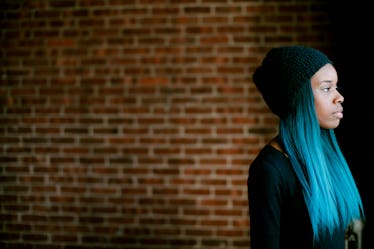 How To Not Let Someone Else's Mood Affect You, According To Experts
Sometimes a good day can go right down the tubes, all because of someone else's bad mood. Whether your mom was worrying about finances on your nightly phone call, or your boss threw you some out-of-nowhere shade, other people's emotions often have a way of taking over your own. In a sense, it's fascinating because it indicates that, as humans, we can't help but be empathetic. The struggle, though, comes when other people's stresses begin to affect you negatively. When that becomes the issue, it's important to figure out how to not let someone else's mood affect you, because while it's good to be able to relate to others so well, you have to look out for your own well-being first and foremost.
Michele Moore, a professional counselor, certified coach, and relationship expert at Marriage Mojo, tells Elite Daily that what researchers are now calling "emotional contagion" is a very real experience for most of us on a daily basis: "We're influenced constantly by the positive or negative emotions of others, including co-workers, friends, and partners," she explains.
Paul Christoffersen, of Christoffersen Coaching, tells Elite Daily something similar: Other people tend to affect your mood when you (usually unconsciously) put the control of your mood in someone else's hands. "When we do that, we allow them to 'make' us feel a certain way," he says.
But emotional contagion doesn't have to control you, and how you feel, day in and day out. Here's how you can keep doing you, even in the midst of navigating a whole world filled with other people's ever-changing moods.