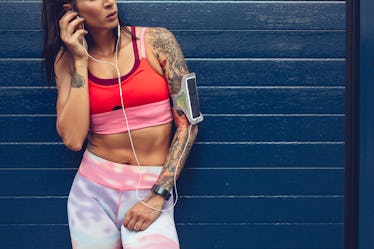 If You Always Get Bored AF During Cardio, Here's How To Keep Things Interesting
Cardio can be boring AF. I can't even count the number of times I've hopped on the treadmill and immediately covered the dashboard with my sweatshirt so I wouldn't be longingly gazing at the ticking clock the entire time. As much as I loathe it, I try to include at least a little bit of this heart-healthy exercise in my workout routine here and there, which means it's 100 percent necessary to figure out how to not get bored during cardio, so I can actually enjoy myself during that time, instead of dreading every single second of it.
Look, even if you're someone who genuinely enjoys running, you're bound to get bored with your routine from time to time. It's important to change things up every now and then, even if you love what you're doing, because sooner or later, the monotony hits, and it becomes that much harder to stay committed to your workout routine.
Whether you're picking an awesome playlist to amp yourself up for your elliptical session, or grabbing a set of free weights before you take on the treadmill or pound the pavement, variety is truly the spice of life, and your cardio workouts are sure to get way more entertaining with these simple tweaks.
The next time you have the urge to peel back the edge of your sweatshirt to see how much time has elapsed during your treadmill sesh (ugh, has it really only been three minutes?), try implementing one of these five cardio hacks to make the remainder of your time fly by and keep your workout as fun as possible.