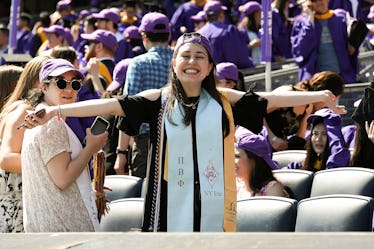 How To Turn Your College Clothes Into ~Fashun~ After You Graduate
Dia Dipasupil/Getty Images Entertainment/Getty Images
Art history. Financial management. The best way to cook meals with only a microwave. How to peacefully share one shower with four other girls. Going to university teaches you a lot of very useful and important things. Unfortunately, how to make your college clothes work in real life is not one of them. This lamentable oversight in curriculum oftentimes leads to a very rude awakening for recent graduates, who enter post-school life with their arms full of oversized tees, crop tops, and leggings and realize the hundreds of dollars they spent on Greek life tanks might have been better allocated to more timeless pieces. Shopping in College 101 needs to be added as a required course, STAT.
If you've been in this position then you likely know that post-grad life is much like college in that you're still eating Top Ramen and are stretching your clean laundry for as long as you can go. Except on top of that, you're starting or interviewing for a new job, you're paying higher rent, you're networking your heart out, and you're drinking at bars that don't overlook fake IDs. In short, you're still broke, but you're expected not to look it. Unlike they were when you were hungover on Wednesday mornings in your dorm room, those leggings and oversized tees are not your friends, here.
Thankfully, recent trends have come to only accept loungewear and graphic tees as part of an adult's everyday wardrobe, but to actually champion them. Athleisure continues to reign supreme as one of the comfiest yet simultaneously coolest aesthetics, and streetwear is more popular than ever before. Unique personal style is more revered than ever among industry insiders, who are creating collections specifically meant to challenge the consumerist status quo. As the New York Times reported of Gucci's Alessandro Michele and Vetements and Balenciaga's Demna Gvasalia, both designers "propose individual, individualistic items, designed to stand by themselves. They're clothing people, not 'fashioning' them."
What I am trying to say here is that you can make pretty much any piece from your wardrobe feel decidedly less collegiate if you contextualize it. As someone who's written about fashion for the past nine years, I've picked up some great insight into how to do so, thanks to runway and street style inspiration, alike.
Here are my tips, with photos to match.
College Hoodies
So long as you pair it with elevated pieces, you can make pretty much any hoodie look uber stylish. Thanks to labels like Vetements, Off-White and Yeezy, sweatshirts have become a high-fashion staple. Try yours with fitted PVC pants, small sunnies, and a cool pair of sneakers for a trendy streetwear vibe, or tuck it into a leather mini skirt and pull on some heeled booties for a look that's a bit more polished. If you want to get crafty, cut it into a crop top to wear with high-waisted bottoms.
Leggings
These days, leggings-as-pants is a totally normal thing and I LIVE for it! Giambattista Valli sent actual Nike iterations down their fall 2017 runway, so yes, it's legit. In order to make them look less "I-woke-up-like-this" and more "I'm-a-boss-b*tch," try wearing them with a cool oversize sweater or boxy jacket (cropped varieties look especially good with high-waisted leggings) and heels or sleek boots.
Oversized T-Shirts
Giant t-shirts as dresses is actually trending, so this one is a no-brainer. Channel your inner Kim K and pair your tee with a pair of thigh-high heeled booties and statement shades, or wear it with sneakers and slicked back hair for a sportier look. Layer a cool leather jacket or tux-inspired blazer over it for an even cooler effect.
Tevas or Chocos
It's no secret that sporty sandals have gone high-fashion thanks to the athleisure trend. Wear them with fancier leather skirts, structured dresses, or cropped pants — anything that strays from super sporty. They'll balance once another out perfectly.
Greek Shirts
When it comes to incorporating these into your wardrobe, remember that pairing them with classic, structured, or streamlines pieces is key. This will allow your look to still be playful and youthful thanks to the tee, but also grounded. A boxy tweed pantsuit would look killer with a tee tucked in if you're a super fearless dresser, as would a fitted printed skirt. Get creative and play around with layering them over collared shirts and under scarves.
As for bandage skirts — because yes, you will own 1,000 in college — my advice to you is donate them the second you accept your diploma. Speaking from experience, you will never wear them again, except maybe during a rogue trip to Vegas.