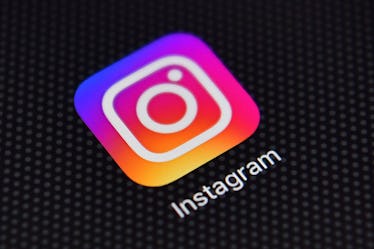 You Can Finally Make Dinner Reservations Through Instagram, So Foodies Rejoice
Carl Court/Getty Images News/Getty Images
Scrolling past a tasty bowl of ramen from the trendy new pho restaurant and need to eat it now? How about the newest cupcake flavor to take over your neighborhood bakery? I know, I've been there before. There's no need to wait any longer, because now you can book your next eating experience right in Instagram. It is one of the latest functions to hit the app in a recent roll out of action buttons, making it easier for users and businesses to directly interact. The photo sharing app is known for its food bloggers and users who like to share scrumptious pictures of colorful eats and unique dishes. There is no need to open your internet browser the next time you see a tasty meal cross your feed, because the new feature will let you book your next meal without leaving the app. Here is how you can make your next dinner reservation through Instagram.
Instagram announced the new feature on Tuesday, May 8, allowing users to book a seat at the dining table of any restaurant that has the reservation function turned on. Instagram is partnering with popular third-party dining reservation platforms such as EatStreet, ChowNow, OpenTable, Resy, GrubHub, Yelp Reservations, and more to make all of your food dreams come true. Making a reservation is as easy as pie. Simply click "Reserve" on the main page of a restaurant's account to make your reservation. Now, the feature is still pretty new, so give your favorite eateries some time to set it up. The promise of being able to book a meal reservation directly through an Instagram account is makes my hungry heart flutter.
That's not the only foodie perk that Instagram rolled out. Now you can start a pick-up order directly from an account. Not sure what to grab for lunch? Pop open your Instagram feed and scroll until your stomach happens upon a plate of tacos and guac from that Mexican restaurant you've been meaning to check out, or a lush green salad from the build-your-own salad bar a few blocks away. Click "Start Order" on the main page of the business account to place your order. By the time you leave the office, your next meal should be ready to pick up. Instagram is simplifying the user experience, and I'm here for it.
In addition to making food reservations directly in the app, Instagram also revealed that users will be able to "Get Tickets," as well as "Book" appointments with businesses. Now you can get your movie tickets and more directly in Instagram through third-party websites like Eventbrite, Fandango, Atom Tickets, and other platforms. "Book" your next hair cut, nail appointment, or other service using the social media app on sites like MyTime, Booksy, and others. Basically, you can live your life without ever leaving Instagram.
More than 200 million users visit a business profile each day, according to Instagram, and more than 150 million users reach out to business directly in the app each month. With so much interaction between users and their favorite shops, restaurant, and more, it only makes sense to take some of the legwork out of the picture.
I don't know about you, but every time I scroll past just about any food post in my Instagram feed, my stomach grumbles — and I immediately start searching to find out where and when I can feast. Go ahead and let your hunger's curiosity get the best of you at mealtime. Book your next meal based on a photo, and share it with your friends — because these new features are here to make life a little easier.