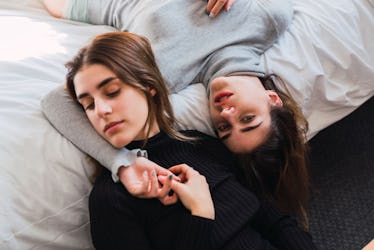 9 Women Reveal How They Hook Up With People While Living At Home
OK, so living at home has its pros and cons. When it comes to your sex life, there are likely more of the latter than the former, but it's totally possible to hook up with people while living at home — and have fun while doing so. I asked some women and non-binary folks about their at-home-hookup stories, and they had a lot of creative tips to share. According to them, the main ingredients for a successful hookup at home include: picking a spot that won't let sound echo, leaning into the sneakiness of it, and being aware of who is home.
Sometimes, having to sneak around to have sex can be really sexy, and make it feel new and exciting, regardless of how long you've been hooking up with that person. Sneaking around my parents' place to hook up with someone new always makes me feel like I am in high school again, and honestly, it's somewhat thrilling.
It's totally valid to be nervous about what the person you're bringing home is thinking about the whole situation. However, if they've agreed to go to your parents' place to hook up, they likely don't mind that there may be other people (*cough* your 'rents) around. If that's stressing you out, talk to them about how you're feeling — communication is key.
Here's what 9 people had to say about their own at-home hookup tricks.