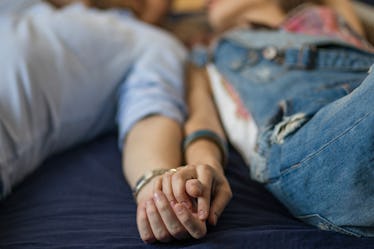 Here's How You Can Support A Loved One Dealing With Endometriosis, According To Experts
March is National Endometriosis Awareness Month, and women are courageously coming forward to share their experiences with the condition. Julianne Hough, for example, has opened up about having faced the trials and tribulations of endometriosis from a young age, and now, she's using her platform to encourage other women to not be afraid of their struggles. Stories like Hough's are undoubtedly inspiring for those living with the condition, but they also shed an especially important light on the subject for loved ones who may be wondering how to help someone with endometriosis in the best way possible.
Personally, I do not struggle with endometriosis, but I do have irritable bowel syndrome, a different chronic pain disorder, and I can sympathize with the fact that, more often than not, it can feel like a battle you're fighting alone. The truth is, though, it doesn't have to be that way, and Hough found that out first-hand when she sat down with ice hockey player and now-husband Brooks Laich to explain what she was going through. The Dancing with the Stars judge told E! News,
[Now] He rubs my back while I'm going through my thing, knowing that it's going to pass, but like he's not freaked out anymore. And now he feels like he's contributing to helping. As hard as it was for me to let go of that control, it's actually amazing.
Being the natural competitor that she is, Hough explained in her interview with E! News, she approached her diagnosis the same way she approached dancing: as something she would battle on her own. It wasn't until an episode had her "doubled over in pain" that she was forced to give up a little bit of that control, and let Laich accompany her on this journey. This gave Laich an idea of what she was going through, and allowed him to take a role in helping her along.
According to the Endometriosis Foundation of America, endometriosis is a disorder in which the lining of the uterus grows outside of the uterus, causing extreme pain in a woman's reproductive system. What's even more concerning is that, according to the non-profit organization, one in every 10 women in the United States suffers from the condition, while 176 million women are suffering worldwide.
Endometriosis is something you have; it is not what you are, which, according to Hough, is exactly why "this should not be something [you're] afraid of." Likewise, if you know a loved one struggling with the condition, you shouldn't be afraid to offer help where you can. Here are a few ways to support someone you love who's living with endometriosis.