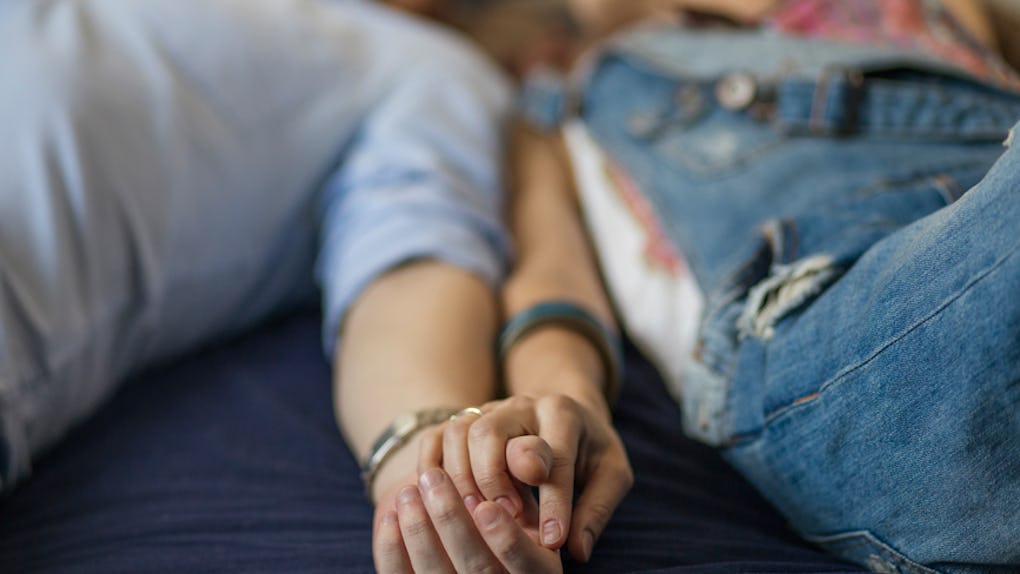 T-REX & Flower/Stocksy
How To Help Someone With Endometriosis By Doing These 6 Simple Things
March is National Endometriosis Awareness Month, and women are courageously coming forward to share their experiences with the condition. Julianne Hough, for example, has opened up about having faced the trials and tribulations of endometriosis from a young age, and now, she's using her platform to encourage other women to not be afraid of their struggles. Stories like Hough's are undoubtedly inspiring for those living with the condition, but they also shed an especially important light on the subject for loved ones who may be wondering how to help someone with endometriosis in the best way possible.
Personally, I do not struggle with endometriosis, but I do have irritable bowel syndrome, a different chronic pain disorder, and I can sympathize with the fact that, more often than not, it can feel like a battle you're fighting alone. The truth is, though, it doesn't have to be that way, and Hough found that out first-hand when she sat down with ice hockey player and now-husband Brooks Laich to explain what she was going through. The Dancing with the Stars judge told E! News,
[Now] He rubs my back while I'm going through my thing, knowing that it's going to pass, but like he's not freaked out anymore. And now he feels like he's contributing to helping. As hard as it was for me to let go of that control, it's actually amazing.
Being the natural competitor that she is, Hough explained in her interview with E! News, she approached her diagnosis the same way she approached dancing: as something she would battle on her own. It wasn't until an episode had her "doubled over in pain" that she was forced to give up a little bit of that control, and let Laich accompany her on this journey. This gave Laich an idea of what she was going through, and allowed him to take a role in helping her along.
According to the Endometriosis Foundation of America, endometriosis is a disorder in which the lining of the uterus grows outside of the uterus, causing extreme pain in a woman's reproductive system. What's even more concerning is that, according to the non-profit organization, one in every 10 women in the United States suffers from the condition, while 176 million women are suffering worldwide.
Endometriosis is something you have; it is not what you are, which, according to Hough, is exactly why "this should not be something [you're] afraid of." Likewise, if you know a loved one struggling with the condition, you shouldn't be afraid to offer help where you can. Here are a few ways to support someone you love who's living with endometriosis.
1. Do Your Own Research
Before sitting down with your loved one, or trying out different things you think will help them, your first order of business should be to become more familiar with what they're going through. According to Dr. Gunvor Ekman Ordeberg, M.D., PhD., and Dr. Hedieh Asadi, M.D., who are both affiliated with DeoDoc Intimate Skincare, the ins and outs of endometriosis are extremely unique to the patient.
Drs. Ordeberg and Asadi tell Elite Daily that they always recommend family members, friends, and significant others "do their research, read, and seek information." This will obviously help you learn more about endometriosis in general, but perhaps even more importantly, putting in that effort to educate yourself about your loved one's struggles demonstrates how much you care and want to help. The Endometriosis Foundation of America's official website is a great resource to help you get a jumpstart on your research.
2. Keep Lines Of Communication Wide Open
People struggling with a chronic pain disorder aren't always super chatty about it, and that's OK. It might take time for your loved one to want, or even have the energy, to sit down and discuss what's really going on.
According to Abby Norman, a science writer and author of the book Ask Me About My Uterus: A Quest to Make Doctors Believe in Women's Pain, many women suffering from endometriosis can easily feel "sad, frustrated, and even guilty," because the illness can cause pain, fatigue, and other symptoms that keep them from completing everyday tasks, or spending time with loved ones.
The best thing you can do, Norman tells Elite Daily, is to let them know you're always willing to talk or, better yet, listen.
3. Go With Them To Doctor Appointments
Of course, doctor appointments are very personal, so you obviously don't want to just show up out of the blue and insist on sitting in. However, there's no harm in asking if your loved one would like some company during their appointment.
"Even if it's just a regular checkup," Norman tells Elite Daily, "going with them and jotting down notes so they don't have to try to remember everything later can be a big help."
4. Suggest They Join A Support Group
If your loved one feels alone in what they're going through with endometriosis, it can be helpful for them to talk with others who may be struggling, too, to see first-hand that their fight is not a one-woman battle.
Dr. Jane Frederick, a California-based, internationally noted fertility reproductive endocrinologist, tells Elite Daily there are many organizations, support groups, and even online chats that "offer education, support, and resources" to those with endometriosis.
Hough, for example, is the new face of SpeakENDO.com, an online resource and forum that offers informative videos, articles, and even stories from women who have endometriosis. The Endometriosis Association is also a great outlet for teens and adult women that offers educational information, private groups, and peer support.
5. Ask Them About Their Own Ways of Coping
Each person struggling with chronic pain establishes their own ways of coping. Ask or take note of how your loved one deals on a daily basis, and try to build off of these behaviors.
"If they take hot baths a lot, get them a neat bath bomb or relaxing soak," Norman suggests. "Offer to reheat their heating pad or bring them a cup of tea." Finding little ways to take their mind off the pain, like watching a movie or listening to music, can also be helpful, she adds.
It's also important to recognize if your loved one prefers space or alone time in these moments. Don't take it personally if they do; it's OK if they need to separate themselves until they're feeling better.
6. Reach Out On Their Off Days
Because endometriosis is so personal, and oftentimes, it's really those closest to us who offer the strongest support system, it can be tricky to know where to draw the line when you're a concerned co-worker, or maybe the kind of friends who only talk via text.
If that's the case, according to the Center For Young Women's Health, it's totally fine to reach out via text or phone call on days when you know your loved one is feeling off, or if you notice they didn't come into the office one day. This gives the person their space, but at the same time, checking in shows you're thinking about them, and that you care about how they're doing.