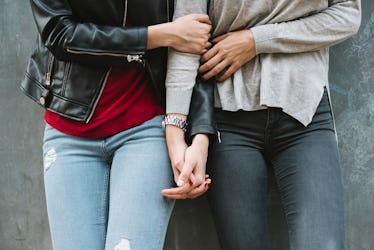 How To Help A Loved One Living With An Eating Disorder, According To Experts
National Eating Disorder week starts on Monday, Feb. 26, 2018, and will run through Sunday, March 4. Over the course of seven days, stories of those struggling, and those in recovery will be shared, and even though this week is dedicated to raising awareness of the disorder, it's also an opportunity to inspire allies. As someone who has been on both sides of an ED, I understand how hard it is to go through it; I also realize it can be challenging to figure out how to help someone with an eating disorder, because no two journeys are alike. Even though approaching the subject is never easy, it's always worth it, because chances are, that person knows you can't eliminate their disorder, but you can support them, and that's priceless.
You know how the saying goes, "you can't love someone, unless you love yourself?" Well, in my experience, it works both ways. Sometimes you need someone close to show you that your well-being matters, and despite how alone you may feel in your eating disorder, there are people who care about you and want to help you get better.
If you know a loved one is struggling, the first, and most important thing you can offer them is your unconditional support and love. From there, consider giving any (or all) of the following advice a try to show that person they truly aren't alone in their struggle.