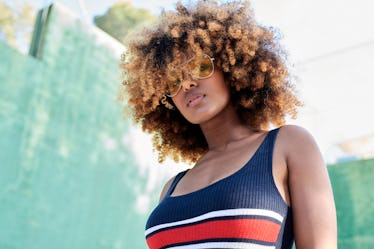 Do These 4 Things On Sunday For A Glow That Lasts All Week Long
Guille Faingold, Stocksy
I work from home now, so I don't get the Sunday Scaries like I used to. But no joke, there was once I time when I started getting them on Saturday night. By Monday morning, I was a wreck, and I wasn't able to recover until that Friday rolled around. My hair was a mess, my outfits were thrown together, and I felt like crap all week long. It was a vicious cycle that became somewhat depressing after a while. It was then that I realized how to take a self care day and treat Sunday with the respect it deserves.
Once I got into the groove of prepping for the week (instead of sitting on the couch all day moping) on Sundays, my entire attitude changed. I had more productive work weeks, and my outfits went from being a hot mess to being straight-up hot.
When the thought of having to be up at the crack of dawn the next morning is enough to send you into a downward spiral, making the seventh day a productive one will only make the other ones run smoother. Don't believe me? Try any or all of these self-care tips and feel the difference yourself.
1. Give Yourself A Facial
Saturday Skin Rub-A-Dub Refining Peel Gel, $28, Sephora
When done correctly, a facial can leave your skin dewy and incredibly fresh-looking for an entire week. Start with an exfoliating peel to remove flaky skin and deep clean your pores. Next, follow with a hydrating face mask — this will make your skin glow through Friday — and incorporate a face roller to get rid of all that puffiness you induced over the weekend.
Masque Bar Gold Foil Sheet Mask, $4, Masque.Bar
Skin Gym Rose Quartz Crystal Facial Roller, $28, Nordstrom
2. Pick Your Outfits
Pipe Clothing Rack, $98, Urban Outfitters
Taking time on Sunday to pair some outfits together will not only let you sleep in a couple more minutes, but it'll ensure you look your best all week long. Instead of trying to accessorize while your half asleep in the morning, block off a part of your closet or invest in a rolling rack to organize your work or school outfits. Iron a week's worth of clothes, hang them neatly and pair them with shoes and jewelry sometime on Sunday, and you won't even have to think about it when you wake up during the week.
3. Do Your Grocery Shopping
Filt Large Net Bag Natural, $22, The Line
Taking the time to pick up antioxidant-packed groceries and meal prep on Sunday will result in a vibrant mood (and glow) later on. Try foods with omega-3 fatty acids, like salmon, which can have soothing anti-inflammatory effects on the skin if you suffer from conditions like rosacea. Or pick up some almonds, which contain biotin and vitamin E, which help retain moisture in your skin.
4. Squeeze In A Workout
Nike Free TR 3 Flyknit Sneakers, $120, Net-A-Porter
Exercising not only makes you feel good but it can help your skin look much better, too. When you get your heart rate up, it increases blood and oxygen flow throughout the body, which can lead to a more even skin tone. Also, working out can help lower stress levels, which is exactly what you need before heading into a busy week.