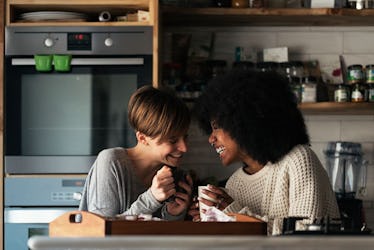 A Therapist Reveals How To Have That First Deep Conversation With A New Friend
Friendships are one of (if not the single) greatest parts of being a human. Finding people you connect to, trust, and enjoy spending time with is what makes it possible to get through this wild ride we call life. But when you first start getting comfortable with someone, it can be hard to know how to have a deep conversation with your friend, particularly if you guys haven't reached that whole "tell each other everything" stage just yet.
It's one of the best feelings in the world to be able to open up to someone about your deepest thoughts and feelings, and to know they're comfortable doing the same with you. But how do you break that "acquaintance" barrier, so to speak, and begin broaching those topics for the very first time? And, perhaps more importantly, how do you do that without, you know, completely scaring your friend off and ruining the friendship before it even has a chance to really begin?
According to counselor and relationship expert David Bennett, the biggest thing to keep in mind here is each person's boundaries in the friendship. Moreover, he says, it's important to commit to developing the relationship slowly over time. "One problem of going 'too deep, too soon' is that it can get awkward and intrusive if your new friend isn't ready," Bennett tells Elite Daily. "Also, when you start to get into deeper conversation, you're risking saying things that could hypothetically strain (or even end) the friendship."
Bennett also points out that this is especially true today, when many people feel extremely divided by political and personal views. But rest assured, it's not that daunting in practice to move a budding friendship to that deeper level. Here are a few ways to start having those meaningful, life-changing conversations with a friend.