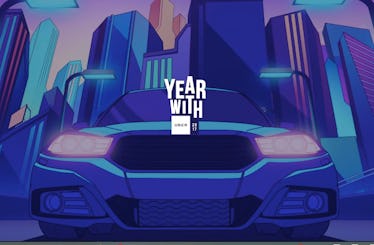 Your Uber Year In Review Will Probably Make You Judge Yourself & You're Not Alone
It seems that the moment we've all been waiting for is almost here. At 11:59 p.m. on Dec. 31, we will see the very last moment of the unbelievably tumultuous 2017, and provide a gracious welcome for the salvation to (hopefully) come in 2018. While this year was undeniably a little tough, it's still fun and nostalgic to look back on your experiences and memories. And since Uber was often there for many us — through thick and thin — they've put together and sent you a personalized report to commemorate the trips you've shared with them. So if you're feeling nostalgic, here's how to get your 2017 Uber year in review.
Although it can be easy to blow by the hundreds of promotional emails you receive everyday, you may have noticed an email from Uber, titled "2017 in the rear-view" (LOL, get it?). Upon opening the email, you can find several interesting statistics and information about your Uber history. It lists how many days ago you joined Uber, the number of miles you've traveled in the last year, your updated Uber rating (prepare yourselves), the time range for when you usually order an Uber, and the cities in which you've used Uber in 2017.
We're honestly relieved they didn't show us the amount we've spent on Uber this year, because let's be real, that would be seriously disturbing. The review, however, is super personalized — and it might make you feel super nostalgic. Honestly, it's pretty freaking cool how much it can tell you about your 2017.
The email goes on to reveal where riders in your city most often go abroad (apparently for NYC riders, it's London!), and it also gives several national statistics. The report lists which city received the most driver compliments (it's Los Angeles, BTW), the city with the most Uber Eats orders (it's surprisingly not NYC), the city with the most lost items per ride, and the city with the most nighttime and weekend rides.
The email then provides a link to see international Uber stats, which includes the top 2017 tourist destinations, world-wide statistics about Uber's food delivery service, and the most unique ride services they offer around the world (people have actually used Uber helicopters... who knew?). Both the email and the link includes the fact that Uber is available in 49 different languages, and it shows how to say "Happy New Year" in every one of them. It's cute, it's informational, and it's honestly pretty handy for all of your Uber-related questions and inquiries. Definitely check it out!
If your Uber year-in-review somehow managed to get lost in the mysterious abyss of your email, you can go on their year in review website to see all of your Uber statistics. After using your Uber account information to sign into their "Year With Uber" page, you can view your stats, as well as a catchy music video reiterating all of your personal Uber information. With sweet animations and an unforgettable tune, you won't want to miss out on your personalized music video. And, if you don't feel like logging in with your own account info, you can see Uber's own year-in-review music video that covers its own stats, including the farthest trip traveled and weirdest thing that was lost in an Uber (guys... it was a lobster).
So, whether your year was glorious or a little turbulent, definitely make sure to look over your Uber year in review. It's fun, it comes with a catchy AF music vid, and it'll remind you of all the fun trips and wild nights out you experienced. So before you jump in the new year, take an (Uber ride) down memory lane.
Check out the entire Gen Why series and other videos on Facebook and the Bustle app across Apple TV, Roku, and Amazon Fire TV.