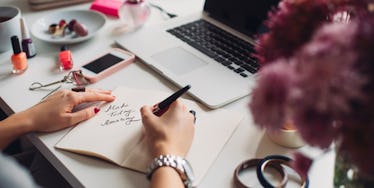 4 People Share The Most Important Step They Took To Get Over Their Ex For Good
Getting over a relationship is no easy feat. The person you used to make a majority of your plans with is out of your life, and building a new present and future without that person can sometimes seen insurmountable. The smaller things can hurt, too: who do you send memes to? Who do you tag on funny Instagrams? One day, you were half of a duo; now, you're not... and that can sting. As rough as you might feel right now, you don't need to feel this way forever. If you're thinking about how to get over an ex, you're not alone.
Below, four people share the strategies they used for moving on after a breakup. Before you try any of these moves, though, consider cutting off communication with your ex if possible. If the two of you are in the same friend group, that may make things more difficult, but explain to your friends that maybe for some time you'd like to hang out with them separately from your ex. Do the usuals: block on social media, delete pictures from your Instagram (or at least, archive), and give it a good cry. Once you've let out that sad energy, here are some things to do to move forward with your life.