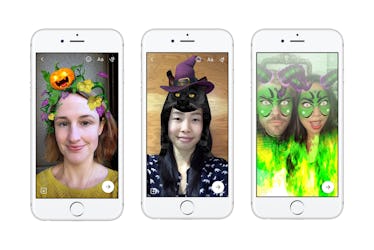 Halloween Filters For Facebook Messenger Are Spooky AF & Here's How To Get Them
Facebook
It's spooky season, everyone. That means you get to dress up as your favorite creepy creature IRL and on social media. No, I'm not referring to the shameless Halloween selfies you're bound to post during costume parties throughout October. I'm talking about the Halloween filters readily available on your favorite stalking platform, Facebook. That's right: Facebook added over a dozen new festive filters to their Messenger platform, and they're pretty perfect for anyone trying to share the spookiness with their friends this season. Here's how to get Halloween filters on Facebook Messenger for creepy phone calls galore.
First, make sure your your Facebook Messenger app is updated. This seems like a silly step, but it'll help your phone adjust and ensure your filters load into the app. Then, you'll have to know how to use Facebook Messenger (don't be ashamed if you forgot). In order to do this, click on the Messenger app icon. Once you've conquered the act of clicking, choose a conversation. While testing the filters, I opened a chat with myself (yes, you can do that) so I didn't accidentally send any creepy selfies to relatives or friends. That'd be awkward AF.
OK, once you open the conversation of your choice, click on the teeny, tiny camera icon at the bottom left of your screen. After clicking, a frontal camera should appear and you should be looking directly at yourself. Maybe you'll look something like this:
If you don't want to open a conversation, you can take an even easier step. Once you open Messenger, you'll see a circular button at the bottom of your screen. Click on that, and it'll take you to your camera.
Once you've reached this step, you're scarily close to the spooky Halloween masks and filters.
While you're staring at yourself, you should see a star icon beneath your head (but still on the camera screen). Click that! Once you've clicked, a whole selection of Facebook Messenger filters and masks should appear. If you followed my steps correctly, you should be able to click on a filter option, and then watch your face transform into a magical creature of your choice. FYI, the options are really cool.
Now it's time for the Facebook Messenger Halloween filters.
When you're scrolling through the filter options, you should finally come across the Halloween filters and masks! New spooky Facebook Messenger assets include a skeleton, werewolf, The Queen of Hearts, scary bunnies, and tons of others.
Luckily, I had the opportunity to test the Halloween filters and masks a few days before their big debut — and let me tell you, they're super realistic (and equally creepy as they are cool).
Now, I'm going to show you screenshots of my Facebook Messenger Halloween filters and masks. I only took a few, so take these as inspiration to explore the rest! Also, please ignore my pajama flannel. It goes with the fall aesthetic though, right?
This cute pumpkin headpiece is my favorite.
I also really, really love this cat wearing a hat.
This bunny is spooky and cute and I'm obsessed.
This one's pretty terrifying, not going to lie.
Is this a monster or a goblin? You decide.
As someone who really, really hates spiders, this one was the spookiest.
As you can see (or maybe you can't until you try it), once you open your mouth, most of these filters change. With some of them, spiders come crawling down your screen — and for others, your eyes turn scary colors. Nevertheless, they're creepy and perfect if you want to give someone a call... and a scare.
So, instead of just dressing up for Halloween and posting costume selfies during Halloweekend, spook up your social media game with these masks and filters. You're sure to give anyone you're talking to quite the fright.
Happy Halloween, everyone!
Check out the entire Gen Why series and other videos on Facebook and the Bustle app across Apple TV, Roku, and Amazon Fire TV.