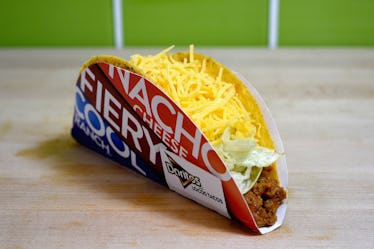 Taco Bell Is Giving Away Free Tacos All Thanks To This MLB Star & We're So Grateful
Taco Bell
If you pass Astros' outfielder Cameron Maybin on the street, go give him a hug. Thanks to his savvy moves on the field, you get a free lunch — one of the very many perks of baseball. If this delightful news piqued your interest, here's everything you need to know about scoring a free treat during Taco Bell's Steal A Base, Steal A Taco event.
For those who stand behind different teams (and for those who weren't aware the World Series had actually begun) let's get you up to speed. Taco Bell joined forces with the MLB for its sixth annual Steal A Base, Steal A Taco promotion during the 2017 World Series, which was presented by YouTube TV. This oh-so-lovely deal means that the first player to steal a base in the 2017 World Series wins a free Doritos Locos taco for everyone in the country. No pressure or anything.
It all happened rather quickly, much to hungry fans' delight. During the 11th inning of Game 2, Maybin was the hero we all needed. He stole second base and gifted us with exactly what we were waiting for — the stolen base heard 'round the world. The fast-food chain followed Maybin's lead and will let its hungry customers steal a taco as a result of his play.
Taco fans across the country can head to the nearest location on Wednesday, Nov. 1 from 2 to 6 p.m. to score a free Dorito Locos Taco. There is no purchase necessary and each patron is entitled to one taco. If you've found yourself salivating at this thought, head to Taco Bell's website to figure out a participating store near you.
What a time to be a baseball fan, huh?
Regardless of the outcome of the 2017 World Series, Maybin can call himself a hero — literally. Joining the ranks of Francisco Lindor, Jacoby Ellsbury, Jason Bartlett, Ángel Pagán, and Lorenzo Cain, the Astros player joined the Taco Hero Hall of Fame thanks to his 11th inning steal. That's just as noteworthy as the World Series, in my book.
Before you head out during your lunch hour for your free prize, you should probably dress for the occasion. After all, Maybin was kind enough to do you a favor. Stop by the mall and grab something from Forever 21 and Taco Bell's collaboration to show your support. The line comes equipped with shirts, bodysuits, sweatshirts, and more.
"We are excited about this partnership with Taco Bell," Linda Chang, Forever 21's vice president of merchandising, said in a statement obtained by Elite Daily. "Food, like fashion, is driven by trends and culture. Merging fashion and food in this collection gives our customers a new way to experience both our brands."
Likewise, Taco Bell is equally as excited about the cozy clothes that pay homage to the fast food favorite.
"We've seen our fans get individually creative in expressing their love for Taco Bell through fashion, and we believe this collection with Forever 21 is going to be everything they would expect from us in extending the Taco Bell lifestyle to fashion: original, affordable, creative, a little quirky, and definitely fun," Marisa Thalberg, chief marketing officer at Taco Bell Corp, said in a statement obtained by Elite Daily.
Check out some of the cool clothes you can get in time for the Nov. 1 festivities (sorry, no stealing this time around).
Can't wait for the taco celebration. Thank you Maybin and good luck!
Check out the entire Gen Why series and other videos on Facebook and the Bustle app across Apple TV, Roku, and Amazon Fire TV.