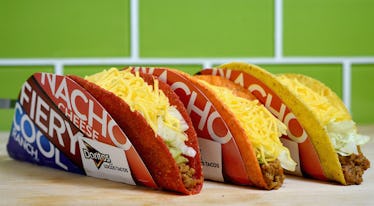 Taco Bell Is Giving Away Free Tacos For Baseball Season & Here's How To Get Them
Courtesy of Taco Bell
Sometimes, the world is kind to us. And sometimes it's excellent, and bestows on us that greatest of gifts: free tacos. This is one of these times. Taco Bell is partnering with Major League Baseball to give out free tacos with "Steal A Base, Steal A Taco" 2017, and it's going to get you so excited about postseason baseball. Here's how to get a free taco with the deal.
First things first — it's kind of not up to you to win it. Sorry! Unless you're a MLB player, there's not that much you can do to ensure that you can get your hands on that sweet, sweet cheesy Tex-Mex goodness. The way it works is, the first player to steal a base in the 2017 World Series wins a free Doritos Locos taco for all of America.
That's it! No, seriously.
But you'll have to pay attention, because there are technically two phases to the contest.
If a base gets stolen during either Game One or Game Two of the World Series, currently scheduled for Tuesday Oct. 24 and Wednesday Oct. 25 respectively Taco Bell will be giving out the free goodies on Wednesday, Nov. 1 between 2 p.m. and 6 p.m. at participating locations.
But if the base stealing happens later, so do the tacos: if the first stolen base happens during Game Three — scheduled for Friday Oct. 27 — or after, the tacos will be handed out on Tuesday, Nov. 7, also between 2 p.m. and 6 p.m.
Sadly, it's kind of a one time only deal. The rules about the giveaway say that it's only for the first base stolen in the World Series, and tacos are limited one per customer. Still, I don't look a gift taco in the mouth.
Upside? It doesn't matter which player or which team steals the base, we all get tacos anyway. Hooray!
"Everyone has their favorite team and favorite player, but free tacos are something all baseball fans can root for," Noah Garden, MLB Executive Vice President, Business, said in a statement about the promo. Too true.
And what's in it for the players?
They get honored with the title "Taco Hero," and probably bragging rights to their friends for the rest of time. Possibly winning the World Series is all well and good, but if you can literally call yourself a Taco Hero, that's basically the tool to end every argument, ever.
Heck, that's something to get engraved on your tombstone, if you ask me. "Loving partner, devoted parent, and TACO HERO." It's how I would want to be remembered.
Of course, whoever wins will have to share the honor. This is Taco Bell's sixth time running the promotion, and previous Taco Heroes Jacoby Ellsbury, Jason Bartlett, Ángel Pagán, Lorenzo Cain and Francisco Lindor already hold the title. (You'll have to ask them if they put it on their business cards.)
Honestly, I'm not much of a sports person. It's always been just an excuse to eat terrible processed cheese and drink watery beer while yelling at people who can't hear you to do a better job at acts of athleticism that you could never manage. But man, this has got even me kinda hyped.
So even if baseball isn't your thing, it's a reason to get excited. And if baseball is your thing, it's all the more reason to be getting pumped. "It's something for which we can all feel good cheering, no matter which team you support," said Marisa Thalberg, Chief Marketing Officer for Taco Bell.
I mean, I'll cheer for tacos any day of the week. Particularly if that day is also the one they're being given away for free.