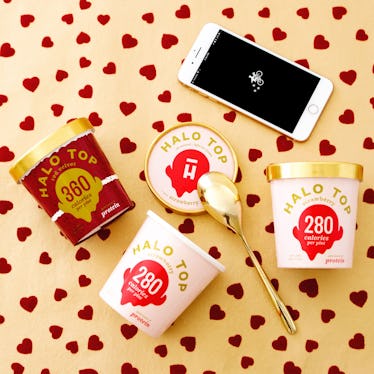 This Delivery Company Is Giving Away Free Pints Of Ice Cream On Valentine's Day
Postmates Fresh
I don't know about you, but I'm about to spend my Valentine's Day with solo meal and a pint of my favorite ice cream (and maybe some wine... OK, definitely some wine). Thankfully, one of my favorite grocery delivery services is offering free pints of ice cream with each order — so indulging in my favorite frozen flavor isn't going to cost an extra penny. If you're also into the idea of treating yourself to a complimentary pint, I'll tell you how to get free Halo Top ice cream through Postmates Fresh on Valentine's Day. (You read that correctly: free pints, people.)
Before I get your hopes up, let's talk about what Postmates Fresh is... because, yes, it's a little different than the Postmates you're probably used to. Postmates Fresh is a grocery delivery service that sources their groceries from local partners, and delivers them to you in about 30 minutes. In other words, Postmates Fresh has your back if you're in need of some quick ingredients for the meal you're cooking, or if you're too lazy to walk to the grocery store for your go-to snacks. It even offers household essentials, like paper towels and laundry detergent (cool, right?). The service launched in 2017, and is now available in New York City, Los Angeles, and San Francisco.
Of course, that means only people living in those cities have access to free pints of Halo Top.
If you're a lucky customer in New York City, Los Angeles, or San Francisco, get ready to experience the sweet taste of free dessert. In order to land a complimentary pint of Halo Top ice cream on Valentine's Day, all you have to do is order one from Postmates Fresh. That's literally it. There's no purchase necessary, which means you can order ice cream for yourself (or your bae) without adding more groceries to the list. However, if you're planning on cooking V-Day dinner, I'd suggest utilizing the service and adding ice cream onto your order. That way, you'll be able to treat yourself to a home-cooked meal, and end the night with your favorite pint of ice cream.
I'll reiterate this fact, though: There is no purchase necessary, which means you can totally have ice cream for dinner — free of charge. I know, you're probably thinking: "What about the delivery fee?" Well, guess what: Postmates Fresh waved the delivery fee, so stop worrying about the extra money and freakin' treat yourself! TBH, Valentine's Day never sounded better.
By now, you're probably writing your grocery list and planning your night, so I'll enlighten you with the free Halo Top flavors you can choose from for dessert. In celebration of the romantic Hallmark holiday, you'll be able to choose from Red Velvet or Strawberry, according to Delish. If you aren't a fan of either flavor, then you can always purchase a different one (you'll have to pay for it, though).
Of course, with every promotion comes a teeny, tiny catch — and this one is no different. The free Halo Top pints are subject to availability, and service fees may apply (depending on what area you order from). The promotion only lasts until stores close on Valentine's Day, or at 11:59 p.m. ET on Feb. 14. This means a few things: Make sure you order from the participating cities, and do it on the earlier side so the stores near you don't run out of the goods.
I know for a fact I'd be devastated if I waited too long for a free pint of Halo Top.
Check out the entire Gen Why series and other videos on Facebook and the Bustle app across Apple TV, Roku, and Amazon Fire TV.