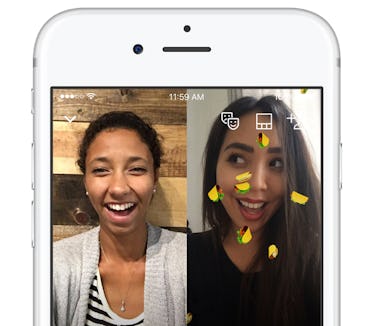 You Can Take Pics With Falling Tacos On Facebook Messenger For National Taco Day, Here's How
Facebook
National Taco Day is here, and that means it's time to celebrate the fantastic holiday accordingly. Not only can you participate with a delicious meal, but you can even give your convos a taste of the excitement. It's time to go big or go home, friends. Learn how to get falling tacos on Facebook Messenger so you can put the icing on the cake... or should I say, the guac on the taco?
First thing's first, Facebook users need to make sure that Messenger is updated.
Once you have latest version ready to go, find some friends and start a one-on-one or group conversation (presumably about where to dine on this occasion). Have that up and running? Perfect. Now spice up your conversation by tapping the video icon located in the top right corner. From there, tap the star and add the falling taco effect.
"It's raining tacos. Hallelujah, it's raining tacos! Amen. I'm gonna go out, I'm gonna let myself get absolutely soaking wet."
The good news about raining tacos verses raining men is that you don't have to wait until half past 10 and you don't need to go out in the street sans umbrella, since the tacos rain at your command.
Have a looksie at Facebook Messenger's raining tacos (hallelujah...)
It's a pretty adorable way to get in on the festivities, wouldn't you say? You have the ability to totally speak what's on your mind (tacos, naturally) when chatting with your friends. This is social media at its best, ladies and gents.
But raining tacos isn't the only way Facebook is helping you celebrate #NationalTacoDay.
Feel free to send a message to the Whole Foods Market bot to get some DIY taco inspiration. All you need to do is send a taco emoji its way and bam! Recipes at your fingertips.
However, my bot (or possibly my version of Messenger) was a bit faulty, as I added in the taco and did not receive a response. That's when I took matters into my own hands and typed in "taco recipes for national taco day." Fortunately, my impatience did the trick and I was treated to a wide array of selections, from ground turkey tacos, fish tacos in crunchy shells, and even breakfast tacos with sweet potato hash. Now if that doesn't sound like an exciting way to get in on the action, I'm not sure what is. The good news is the Whole Foods Market bot for Messenger is a staple for celebrating National Taco Day and #TacoTuesday going forward.
I think my Whole Foods Market Bot might've been sick (or trying to tell me something) because it followed up with a white bean and spinach salad recipe among other recipes that were seemingly a lot healthier than the tacos I was planning on having. Thanks for that, Mr. Bot. I'll make that dish tomorrow.
Of course, the holiday wouldn't be one without plenty of deals to ring in the festivities. If you're not really in the mood to whip up your own dinner (and understandably so — it's a long day), there are plenty of restaurants offering taco deals. On The Border Mexican Grill & Cantina is gearing up for its bottomless mini crispy taco offer for 50 cents, Margaritas Mexican Restaurant plans on serving a 12-inch taco to particularly hungry customers, and Taco Bell will have a special gift set — four tacos for $5.
Whether you're looking to get creative in the kitchen or just want to sit down with friends after a long day, there are many ways to satisfy your National Taco Day quota, so happy munching.
Check out the entire Gen Why series and other videos on Facebook and the Bustle app across Apple TV, Roku, and Amazon Fire TV.