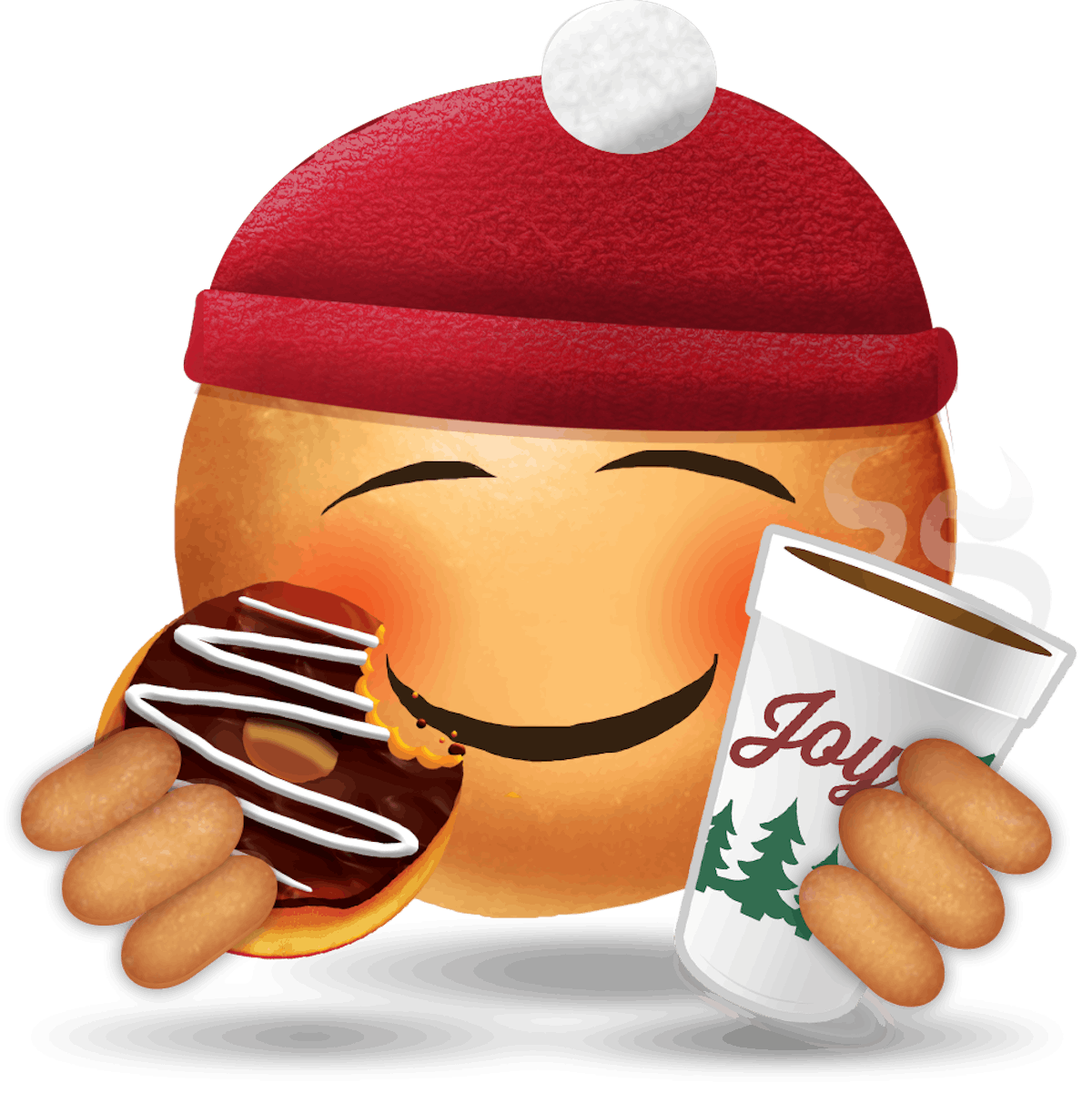 Dunkin' Donuts Holiday Emojis Are So Adorable & Here's How To Get Them
The holidays are the best time to forgo your regular morning routine in favor of something a little more festive. This season, Dunkin' Donuts can also do more than add some much-needed "Joy" to your morning cup of coffee. You can also make your messages a bit merrier this month when you learn how to get Dunkin' Donuts holiday emojis.
Let's face it, keeping up with all of your friends and family can be difficult during this time of year. Sometimes you can wind up messaging back-and-forth about meeting up during the holiday season, and then all of sudden it's the middle of January, and you still haven't caught up with your closest pals. Well, now you can at least add little more holiday spirit to those messages thanks to Dunkin' Donuts holiday emojis, and hey, the holiday-inspired emojis (featuring the famous Dunkin' coffee) might even inspire you to make an actual coffee date to celebrate the season with your besties.
It's super simple dress up your messages for the holidays, too. The first thing you have to do is download the free Dunkin' Donuts app from the App Store. Then, go to Settings > General > Keyboard. When you're in Keyboards, select where it says Keyboards at the top of your screen, and then select the Dunkin'Moji keyboard. The last thing you have to do is tap the Dunkin'Moji selection and select Allow Full Access, so the keyboard will appear in your messaging app. That's it, you're all set to fill your messages with holiday emojis — complete with donuts and coffee, of course.
There are four holiday-themed emojis, and you can send them to your pals throughout the holiday season, according to a Dunkin' Donuts spokesperson.
Send your long-lost pals a digital "Cheers!" with this "Joy" cups emoji.
You'll be sure to spread holiday cheer with this donut-loving smiley emoji.
Give your sister a cute (and subtle) hint about what you want to unwrap on Christmas this year with this festive emoji.
While Dunkin' Donuts is adding some welcome cheer to your messages, you can also indulge in some festive treats from the coffee chain since Dunkin' Donuts introduced new holiday flavors on Nov. 20. You can revisit the classic chocolate-frosted donut in the new year, because these new flavors available in December are too good to be missed.
Try a Frosted Sugar Cookie Donut that's filled with cookie dough-flavored filling and topped with white frosting and frosted sugar cookie crumbles to start your morning (or whenever you want!). Another classic cookie gets the donut twist in the Gingerbread Cookie Donut, which is a caramel-frosted donut topped with gingerbread cookie crumbles.
On the beverage front, Dunkin' Donuts also brought back two holiday favorites: Peppermint Mocha and Brown Sugar Cinnamon flavored coffees. Even better, you can enjoy these flavors of the season hot or iced.
While you're in the store indulging your seasonal sweet tooth, you can finish up your holiday gift list as well. According to the Dunkin' Donuts press release, you will receive a $5 eGift Card with the purchase of at least $20 in Dunkin' Donuts gift cards through Dec. 18 — talk about the perfect gift.
Dunkin' Donuts is an old pro when it comes to adding a seasonal touch to their items. The chain has been releasing their "Joy" cups during this time of the year to get into the holiday season by celebrating the happiness and spirit of the season with the design on their holiday cups.
With the new Dunkin' Donuts holiday emojis and all of the seasonal treats available in-store, you're sure to have the most festive holiday season yet.
Check out the entire Gen Why series and other videos on Facebook and the Bustle app across Apple TV, Roku, and Amazon Fire TV.