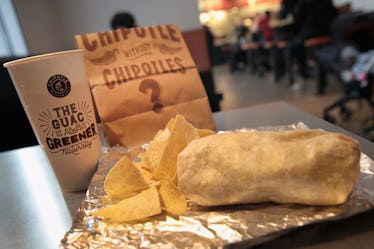 You Can Get Cheap Burritos At Chipotle On Halloween — But There's A Catch
Scott Olson/Getty Images News/Getty Images
It's a scary-good time of year for delicious treats, and it's pretty difficult to resist all of the temptations thrown your way. Sorry to say, but there's no sense trying to be strong because you most likely will cave. Knowing how to get cheap Chipotle meals on Halloween pretty much seals your fate for Oct. 31, so just embrace it and call it a cheat day.
Everyone's favorite lunch spot is celebrating All Hallow's Eve in a fun way this year. Those who are feeling adventurous — and a bit hungry — you are going to want to listen up. It's time to get your trick-or-treat on... with the help of a dollop of guac.
Chipotle has decided to reward costumers with a $3 burrito, bowl, salad or order of tacos on Halloween. The restaurant cleverly calls its spooky special a "Boorito," which couldn't be more appropriate. The only catch? You have to work for it. Customers must show up to their local store in costume before they're treated to a ghoulishly good deal. If there's a reason to attend your board meeting as Pennywise, the chance at discounted Chipotle is obviously it.
So what will you order from Chipotle on Halloween?
If this news isn't enough to put a little spring in your step, there is another way for you to score some deals on your Mexican food. Taco Bell joined forces with the MLB for its sixth annual Steal A Base, Steal A Taco promotion during the 2017 World Series, which was presented by YouTube TV. This oh-so-lovely deal means that the first player to steal a base in the 2017 World Series wins a free Doritos Locos taco for everyone in the country. It's a pretty big deal, naturally, and the player is bestowed with the honor of entering the Taco Hero Hall of Fame (forget about that Cooperstown Hall of Fame thingie).
Astros' outfielder Cameron Maybin is our man. During the 11th inning of Game 2, Maybin was the hero we all needed. He stole second base and gifted us with exactly what we were waiting for — the stolen base heard 'round the world. Taco fans across the country can head to the nearest location on Wednesday, Nov. 1 from 2 to 6 p.m. to score a free Dorito Locos Taco, all thanks to Maybin. Regardless of how the Astros perform, everyone definitely knows that Maybin is a winner. There is no purchase necessary, and since the festivities begin the day after Halloween, no costume is required... only empty stomachs.
Though no funky outfits are needed for your Nov. 1 Taco Bell run, a cool look is encouraged, especially after Maybin so graciously gifted fans with a steal. Stop by the mall and grab something from Forever 21 and Taco Bell's collaboration to show your support. The line comes equipped with shirts, bodysuits, sweatshirts, and more. It's the perfect way to show your love for a Doritos Locos Taco (though it probably wouldn't be such a huge hit at Chipotle). "We've seen our fans get individually creative in expressing their love for Taco Bell through fashion, and we believe this collection with Forever 21 is going to be everything they would expect from us in extending the Taco Bell lifestyle to fashion: original, affordable, creative, a little quirky, and definitely fun," Marisa Thalberg, chief marketing officer at Taco Bell Corp, said in a statement obtained by Elite Daily.
All in all, we've had some political setbacks to kick off the week, so you can take a load off thanks to some delicious food. Happy Halloween (and World Series) indeed.
Check out the entire Gen Why series and other videos on Facebook and the Bustle app across Apple TV, Roku, and Amazon Fire TV.