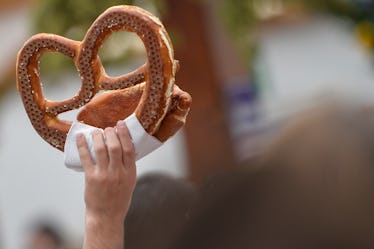 You Can Get A Free Pretzel From Auntie Anne's, So Eat Up
Philipp Guelland/Getty Images News/Getty Images
Aunts and uncles (and pretzel fans in general), get ready for a free snack, because Auntie Anne's is giving away a tasty pretzel deal that's hard to pass up. In celebration of National Aunt and Uncle's Day — or as the pretzel chain likes to call it, "Auntie Day" — Auntie Ann's will dish out buy-one-get-one pretzels for you and your favorite relative to chow down on. Here's how to get BOGO pretzels from Auntie Anne's for Auntie Day.
National Aunt and Uncle's Day is officially (yet unofficially) happening on Thursday, July 26, but Auntie Anne's sweet and salty deal is already underway. From Monday, July 23 to Monday, July 30, the chain store, known for their freshly baked soft pretzels, will give patrons a free pretzel with the purchase of a pretzel during the week-long promotion. The bad news is that you can't just show up and expect BOGO pretzels without doing your homework first. The good news is that I'm here to help show you the way so you can chow down on this snack time bargain.
Before you make a visit to an Auntie Anne's location, you will need to get the Auntie Day coupon. Head on over to the Auntie Anne's website to score the Auntie Day pretzel BOGO voucher. You can print the coupon and bring it with you to a participating location or simply show the barcode on your smartphone to the cashier.
Although Auntie Anne's is home to tasty flavors like cinnamon sugar and roasted garlic parmesan, those varieties are not included in the Auntie Day promotion. The promotion is only valid on handmade classic pretzels, according to Auntie Anne's. That's OK, though, because there's nothing like sinking your teeth into a traditional soft pretzel. Don't forget the condiments. (I'm a fan of whole grain mustard.)
You won't find the pretzel voucher on the Auntie Annie's app, but you should still sign up for Auntie Anne's My Pretzel Perks. The app is available for iOS and Android devices. After you download the app, use your email address to create a My Pretzel Perks account. By signing up, you will be privy to exclusive Auntie Anne's offers and rewards. Any time you dine at Auntie Anne's, be sure to have them scan your Pretzel Perks card in the app to accumulate points. You can even use your My Pretzel Points account when you take part in the BOGO pretzel for Auntie Day. After you have racked up 300 points, the next treat is on Auntie Anne's and will be loaded directly to your account.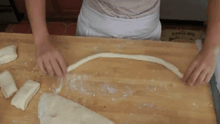 On Thursday, April, 26, Auntie Anne's celebrated Free Pretzel Day by offering customers $15 off their order of $75 or more. The pretzel chain also dropped a line of clothing and shoes just days before National Pretzel Day. The "For the Love of Pretzels" collection features pretzel-themed attire designed by six artists. It's affordable, too, with pieces starting at $13.
National Aunt and Uncle's Day falls on Thursday, July 26 and is a reminder to let the members of your extended family know how much you care about them. Give them a call to say hi and treat them to a free pretzel from Auntie Anne's. If you don't have an aunt or uncle (or one that lives nearby you), that's OK, too. You can treat yourself (or a friend) to this savory deal. Bon appétit!