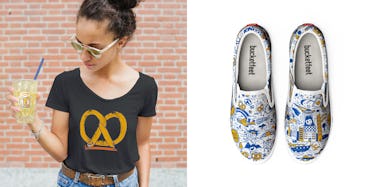 Auntie Anne's Dropped A Pretzel-Themed Clothing Collection & I'm Already Hungry
Auntie Anne's/Bucketfeet
In my opinion, a trip to the mall is not considered a true success if it doesn't include a classic mall snack. Personally, I am all about enjoying a soft pretzel after a day filled with rigorous bargain hunting. My go-to spot to cure a pretzel craving is none other than Auntie Anne's. Of course, you've come to expect delicious snacks from the chain, but they are debuting something new in honor of the brand's 30th birthday this year. Auntie Anne's "For the Love of Pretzels" collection features clothing with images of your favorite pretzels, and you'll probably want to buy it all.
Auntie Anne's announced the pretzel shop chain's latest offering of clothing and accessories in a press release on Monday, April 23. What's even better is that all of the profits from the "For the Love of Pretzels" collection will be donated to Alex's Lemonade Stand Foundation (ALSF), according to the release. ALSF is Auntie Anne's charitable partner, and part of their mission is to help find a cure for childhood cancer.
So, what can you buy from the "For the Love of Pretzels" collection to help this great cause? Since all of the proceeds go to ALSF, you can take your pick. Auntie Anne's tapped six artists to create the designs found in the collection, and they feature the likes of Huebucket's "Pretzel Pug Yoga" items, and Daniel Allen Stevens' "A Twisted Day" design.
This is the first clothing collection from Auntie Anne's, and Heather Neary, president of Auntie Anne's, expressed her excitement about the "For the Love of Pretzels" collection when she said in the press release,
Now, for the first time, those fans can showcase their love for Auntie Anne's by wearing our clothing while also contributing to the fight against childhood cancer. This is going to be a ton of fun for a great cause.
You might not immediately think of pretzels and fashion as a winning combination (like the mess I make on my outfit any time I eat one), but the collection is filled with some seriously cute pieces of clothing and accessories, with prices starting at $13.
You can visit the Auntie Anne's Threadless e-store to browse everything the "For the Love of Pretzels" collection has to offer, and there really are a ton of options from which to choose. You can purchase some new pretzel-inspired duds for women, men, and children. There are plenty of non-clothing options as well. You can choose from accessories and home goods like water bottles, coffee mugs, phone cases, tote bags, and even a shower curtain.
In addition to the products found on the Auntie Anne's Threadless e-store, you can buy a pair of "A Twisted Day" shoes from Bucketfeet. The slip-on shoes are covered in a blue-and-yellow design, giving a nod to the well-known colors in the Auntie Anne's logo.
Other designs in the "For the Love of Pretzels" collection include Shawnanimals' "Pretzels for Everyone" print, Luis Romero's "Pretzels Forever," and Rick Crane's "Pretzel Heaven." While each creation has different look (like Crane's halo-adorned pretzel), you're sure to express your own love of Auntie Anne's pretzels with whatever pieces you choose.
There is one item in the collection you might want to get your hands on that you can't buy, but you can enter to win one of Mike Perry Studio's hand-painted "Auntie Packs," which is a bright pink fanny pack adorned with images of blue and white pretzels. In order to possibly win one the Auntie Packs, you need to follow Auntie Anne's on Twitter and Instagram to see when and how they will give them away.
All of this Auntie Anne's "For the Love of Pretzels" news also happens to coincide with National Pretzel Day on Thursday, April 26, and Auntie Anne's had some good news for "My Pretzel Perks" members to celebrate. From April 26-29, "My Pretzel Perks" members will get a free handmade classic pretzel with the purchase of any kind of pretzel when they redeem the reward from their app, according to the release.
With delicious free pretzels and the new "For the Love of Pretzels" collection (with its proceeds going toward the fight to end childhood cancer), Auntie Anne's is making this year's National Pretzel Day the best one yet.