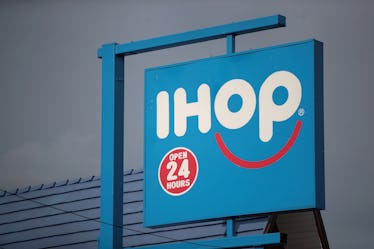 IHOP Is Giving Away Short Stacks For 60 Cents Today & It's Easy To Get One
Scott Olson/Getty Images News/Getty Images
If you're not reading this article from a table at IHOP, then, well... you probably should be. The International House of Pancakes is currently offering a delicious deal in honor of the company's 60th anniversary, and you don't want to miss it. On Tuesday, July 17, you can score three pancakes for less than a dollar if you visit a restaurant at the right time. Since you're probably intrigued, I'll tell you how to get a 60-cent IHOP short stack at your favorite pancake house.
Those who visit their participating local IHOP from 7 a.m. to 7 p.m. on July 17 will get a short stack of Original Buttermilk pancakes for 60 cents, according to a press release. Again: If you're not currently at IHOP, you should probably plan a post-work trip — because this deal is no joke. (Plus, there's nothing like breakfast for dinner.)
The only catch is that customers must dine inside the restaurant in order to take advantage of the deal. This means you can't order a few short stacks to-go and expect to pay 60 cents for each one. Sorry, friends; that's not how it works. Instead, treat yourself to the full IHOP experience and indulge in a fluffy, warm short stack inside the establishment.
There's one more thing that you should probably know about this anniversary deal: IHOP will only allow one short stack per customer, so bring some extra cash if you're hungrier than usual. If you end up devouring your short stack and are craving a side of meat, I have a suggestion for you (and, no, I'm not talking about bacon).
I'm talking about IHOP's new Ultimate Steakburgers, which were announced on June 11 after the company temporarily changed its name to "IHOb." By now, you probably know that "IHOb" stood for "International House of Burgers," which was simply a campaign to promote their new line of savory menu items. If you're craving an Ultimate Steakburger after your short stack, you can choose from the following selections: Cowboy BBQ, Big Brunch, Mushroom & Swiss, Jalapeño Kick, The Classic, The Classic With Bacon, and the Mega Monster.
If you'd rather save the burgers for another time and stick with a short stack for the company's anniversary, that's totally fine. Brad Haley, the Chief Marketing Officer of IHOP, understands. In a press release, he said, "When we launched our new Ultimate Steakburgers last month, we were blown away by the public's reaction to our IHOb campaign since, ultimately, it demonstrated how much love there is for the IHOP brand and our pancakes."
He continued, "However, we are, and always will be, the International House of Pancakes, and for our 60th Anniversary, we're giving our guests the gift of a short stack of our world-famous buttermilk pancakes for just 60 cents."
I don't know about you, but I am grateful for this deal. Bring on the pancakes.
To celebrate the fan-favorite breakfast (and IHOP's 60th birthday), head to your local restaurant from 7 a.m. to 7 p.m. local time. Remember: You can only get one short stack for 60 cents while you're there, and only participating IHOPs are offering the deal. To find your local pancake house, click here.
Happy Birthday, IHOP.