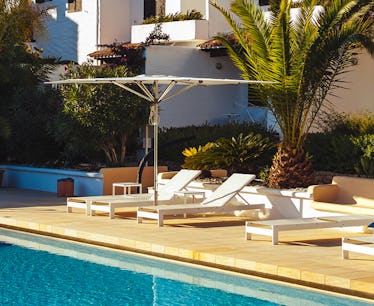 You Can Get 90 Percent Off Your Hotel During Your Weekend Getaway, So Book Now
Pack your bags and get ready to go, because Expedia is offering a major sale on hotels this weekend from April 20 to April 23. The travel booking service is offering 90 percent off select hotels when you make a reservation using the Expedia mobile app as part of their first-ever Semi-Annual Sale. The incredible bargains start on Friday, April 20 and end Monday, April 23. The site is also rolling out a handful of other deeply discounted deals and coupons throughout the weekend, so keep your eyes peeled and wallet handy because it's time to think about booking your summer getaway. Here's how you can get 90 percent off of Expedia hotels this weekend if you're planning a trip.
Expedia's inaugural Semi-Annual Sale is the perfect time to start mapping out your sunny season travel plans. Still don't have anything booked for Memorial Day? It may be about a month away, but it's not too late to call all your friends and jet set to a tropical oasis. Any travel booked this weekend can be redeemed between Friday, April 20 and Friday, August 31 — and there are hundreds of destinations to choose from.
Now's your chance to book with up to 90 percent off select hotels on the Expedia mobile app, which is available on Android and iOs devices. THE travel site is also offering exclusive Delta Air Lines flight and hotel packages, with many hotels up to 50 percent off. But the deals don't stop there. Consumers can get up to $750 off $1,000 package coupon (say what!) and a $50 off $200 standalone hotel coupon while supplies last. Of course, these offers are available in limited quantities so consider yourself warned. Don't let a good deal pass you by.
If you can't commit to booking any travel right now, Expedia will give you one last chance to score big on Monday, April 23. Among the deals being promoted are 25 percent off select hotels (with coupon) on Expedia.com and in the Expedia mobile app, as well as $50 off $200 standalone hotel coupons.
"Summer is one of the busiest travel periods, both domestic and international, and prices tend to go up as we get closer to that peak time," said John Morrey, SVP Brand Expedia in a press release. "Getting an early start on planning and booking can make a huge difference in terms of savings and availability for your perfect trip. To sweeten the deal, we've sourced exclusive deals and rates travelers usually have to wait until Black Friday to find."
You read that right. These deals rival Black Friday prices. It would be a shame not to take advantage of such sweet deals.
If you've got vacation days to burn (and even if you don't) now is the perfect time to make your summertime travel plans. It's a fact. No, really. According to the Harvard Business Review, if you plan your trip ahead of time, travel far away from your place of employment, and make a few friends along the way, it's almost guaranteed you will coming back feeling more energized and refreshed than ever before. Let's remember that in 2016, 55 percent American workers don't use all of their vacation days. I'm not trying to push you to book anything, but to put a bit of perspective around it: that's 658 million wasted vacation days. Don't be another statistic.
From deals on Las Vegas, Mexico, London, and more, it's almost impossible not to earn your wings this summer, and rightfully so. Maybe you'll even be able to score a deal on a roundtrip flight to Asia where you can live your best life at this inflatable unicorn beach paradise.
BRB while I pack my suitcase.