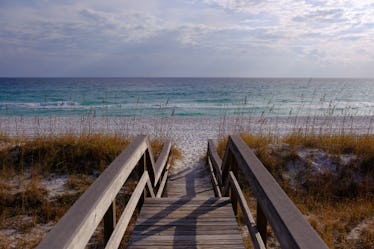 You Can Fly To Florida For Just $49 This Winter, So It's Time To Pack Your Beach Bag
Christmas is over, New Year's Eve is on the way, and there's nothing but snow and chilly temperatures in between. Even thought winter has technically just begun, you might already be looking for a way to escape the deep freeze if you live in a cold-weather climate. Luckily, you could be well on your way to the perfect location for a winter defrost when you learn how to get $49 flights to Florida this winter.
If you travel on the right dates, you can ensure that your winter getaway doesn't break the bank, according to Travel + Leisure. The travelers who will get their hands on the biggest deal will be those heading from Philadelphia to Orlando in the beginning of February. A round-trip flight from Philly to Orlando starts out at just $49 on American Airlines.
Even though it might be the cheapest of the lot, flights from Philly are the not the only deals to be had this winter. Travelers looking to escape an Atlanta winter can get a round-trip deal to Miami in February for just $54 on Frontier Airlines. If you prefer a Fort Lauderdale vacation, then you can still snag a deal from Atlanta, New Orleans, Detroit, Nashville, and New York City (Newark) from as low as $66 for a round-trip ticket to Fort Lauderdale when you fly JetBlue between January and April 2018, according to Airfare Spot.
If you're leaving Houston in search of a hot spot, you can take your pick of either Miami or Fort Lauderdale and still keep your round-trip fare under $100. You can score an $80 round-trip ticket from Houston to either Florida city when you fly between January and February 2018 on United Airlines. New Yorkers are notoriously tough, but winters there can be harsh. You can kick the NYC cold and snow in favor of Mickey's hometown when you book a round-trip flight from New York City to Orlando for $83 on United Airlines in February — and maybe spend Valentine's Day with Prince Charming.
Midwesterners are no strangers to snow, either, and sun and sand begins to sound really good after a few heavy snowfalls. Luckily, you can head off to Miami from Chicago for just $81 on American Airlines in February. Boston gets their fair share of bone-chilling temperatures as well, so a reprieve from a harsh winter is a welcome one. Snagging a round-trip flight from Boston to West Palm Beach for $93 on Spirit Airlines might be just what a New Englander needs to get through the winter.
Since the east coast is notorious for unrelenting winters, New Yorkers might need at least one more option for a winter warmup. Thankfully, you can head to Miami from New York on United Airlines for just $81 round-trip. Minneapolis is another city famous for freezing temperatures, but nothing but ocean waves and sun-kissed beaches await when you buy a round-trip ticket from Minneapolis to Miami for $93 on Spirit Airlines.
If you live in an area where winters are filled with scraping ice off of your car and getting salt stains out of your clothes, then you're probably very familiar with the need to GTFO to somewhere where the thermometer has never had a temperature reading of zero degrees. While the deals above are absolute steals, you can search around for other deals using websites like Airfare Spot or Airfare Watchdog.
If you want to make your winter getaway a little bit extra, you can indulge (and pretend like you're a Kardashian) and spring for these discounted flights to Fiji. No matter which warm location you choose, you're sure to return to your tundra hometown refreshed and ready to take on the rest of the season.
Since you're scoring great deals on tons of flights, you won't need to feel guilty about treating yourself to a much-needed getaway.
Check out the entire Gen Why series and other videos on Facebook and the Bustle app across Apple TV, Roku, and Amazon Fire TV.