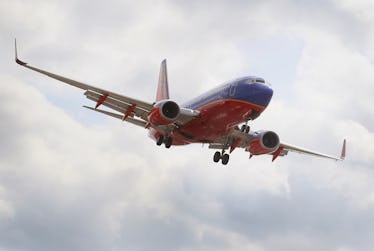 Southwest's Holiday Travel Sale Will Get You $41 Flights If You Act Fast
Scott Olson/Getty Images News/Getty Images
If you act quickly — very quickly — you could experience a Christmas miracle. Flights are as low as $41 during Southwest's holiday travel sale, so you'll have some breathing room in your budget while stocking up on gifts for the family. Book now, and you're one step closer to mom's home cooking.
Southwest is offering discounted tickets to various locations across the United States, all in the name of the holiday season. Fortunately for those with a lengthy shopping list, many of the flights are listed below $100. The coveted $41 tickets are for one-way flights between Long Beach, California, and Las Vegas, Nevada, for example. Other eye-catching options include one-way trips from Boston, Massachusetts, to Atlanta, Georgia. Pricier (but still fairly reasonable) flights include New York City to Nashville, Tennessee, for $132. The airline provides a lengthy list of flight options, so travelers can pick a destination that works well for them.
If these figures pique your interest, get to the nearest computer as soon as possible.
Holiday travelers must book their tickets by Monday, Nov. 6 in order to be eligible for the sale. Make sure you're positive about your takeoff dates, though, as tickets are non-refundable. Take that much-needed coffee break at work and use it to plan a trip home.
When you book your ticket, you must be mindful of a few things.
According to Southwest's website, there are only particular dates available for people looking to make the trip. If you thought that you'd head back to your parents' house last-minute before the big holiday rush, you might want to reconsider. Southwest's site lists its blackout dates as follows:
Domestic travel blacked out Dec. 22-23, Dec. 26-27, and Dec. 30-31, 2017. Domestic travel valid 12/14/2017 – 1/4/2018. Fares not available to/from San Juan, Puerto Rico. Points bookings do not include government fees from $5.60 per one-way flight.
Though certain dates might be a no-go, the perks certainly outweigh the negatives. To get you even more excited about heading to the airport, Southwest offers free checked bags, so it looks like you're really raking in the benefits. You're definitely on Santa's nice list when it comes to travel plans.
This time of year is certainly chaotic — and crowded airports with grumpy travelers and screaming babies don't sound as sweet as a Christmas carol. It might feel overwhelming at times, but there are certainly ways to work through your holiday stress. They say it's the most wonderful time of year, so let's try to make good on that promise.
If you're starting to resent the music on the radio and can't fathom the thought of hearing Mariah Carey's famous jingle again, fear not. Learn how to appreciate the holiday season with the following tips from experts, such as focusing on the good in your life as opposed to what you feel is lacking. Swap that wish list for a gratitude list and you'll feel blessed for all that you have — even when the decorations start to look too kitschy and Mariah Carey just won't back away.
There was a time where this time of year seemed like pure magic, so why not recreate your favorite childhood memories? You can add a little nostalgia and sentimentality to make things all the more sweet. It'll be fun to go back in time and relive those moments.
And, for when this time of year is just too much to endure, remember that Tipsy Scoop's holiday flavors provide the best of both worlds: ice cream and liquor. Holiday Spiced Eggnog? Santa's Cookies and Whiskey? Merry Christmas indeed, huh?
Happy holidays everyone and safe travels.
Check out the entire Gen Why series and other videos on Facebook and the Bustle app across Apple TV, Roku, and Amazon Fire TV.