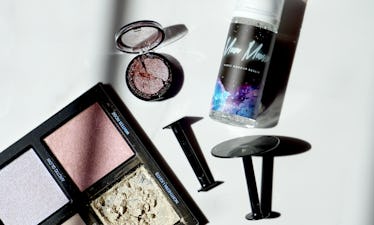 I Tried This $15 Broken Makeup Repair Kit & Clumsy Girls Can Definitely Rejoice
Stephanie Montes
You know the feeling when you drop your favorite palette, and all you can do is hold your breath and pray that it's still in one piece when you pick it up? It's definitely the most anxious three seconds of my life. And because we're not always lucky enough to breathe a sigh of relief, here's how to fix broken makeup with a product I just discovered.
Every time I work on a photo shoot, I stick really close to the makeup artists and hairstylists on set in hopes that their talents will rub off on me. And I have to say, over the years, I've gathered enough tips and tricks to get me out of almost every beauty dilemma. But on my last shoot, the subject of broken makeup came up and one makeup artist told me about a product that repairs broken powders, called Moon Mousse. I noted it on my phone and ordered it the second I got home that evening.
It's funny how talking about broken blushes, shattered shadows, and fragmented foundations makes us beauty junkies cringe, but it sucks when our favorite product breaks into a sad pile of colorful crumbs. Truthfully, I've had a few broken products in my vanity that I refused to throw away, so when my Magic Repair Kit landed in my mail, I cracked it open (pun intended) and tested it out.
RIP to all those broken highlighters out there. If this works, we'll never have to cry over a shattered palette ever again. *Fingers crossed.*
Moon Mousse comes in this cute little pouch with all the tools you need to fix any amount of damage.
Magic Repair Kit, $15, Moon Mousse
Inside you'll find the mousse, a spatula, two dual-ended press tools (a circle and a square so you can fix any shape), and instructions.
Even the captions on the back of the pouch are cute. The back reads, "We took that great leap for the good of woman-kind and traveled to the moon and back to find a solution for your stylish, clumsy ass. Clumsy, meet Moon Mousse. Moon Mousse, meet clumsy."
So, I followed the instructions in hopes that I could get my favorite iridescent purple eye shadow back into one piece. First, I wielded the spatula to break the remaining pieces into a powder.
Next, I reached for the round pressing tool to pack the powder back into the pan, and pressed it down to make it as solid as possible again.
Lastly, I broke out the mousse and pumped some product directly onto the shadow. Now all that's left to do is let it sit overnight and hope that it will look like new in the morning.
Like a kid on Christmas morning, the next day I got out of bed, slid on my slippers, and went straight to the next room to see what Moon Mousse had for me.
I was pleasantly surprised when I found that the shadow had dried and settled back into its original form. To be sure it wasn't a scam, I swatched the shadow and boom, my previously-broken eye shadow was back. I just saved myself tears, time, and the money it would cost to replace my old favorite. Success.
And the best part is the Moon-Mousse formula is completely natural. The ingredient list is six items long and includes favorites like witch hazel, lavender oil, jojoba oil, coconut oil, and vitamin E. Also on the back of the packaging, Moon Mousse claims it "repairs your broken makeup, along with your broken spirit, to its original form in its original container."
My broken eye shadow is definitely repaired, but you know what? My spirit feels pretty good too. Thanks, Moon Mousse.