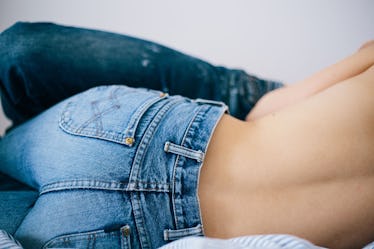 3 Sexy Ways To Find Out What You Like In Bed, According To Experts
Some people know what turns them on sexually from as far back as they can remember. For others, figuring out what they want in bed is a process. Sometimes, this process takes a bit of exploration and a bunch of trial and error. How to find out what you like in bed might sound complicated, but fear not — it doesn't have to be. Actually, exploring your sexual fantasies and dormant kinks can be incredibly fun.
Maybe you grew up in a very sex-positive environment, so you've known what gets you going forever. But if you came of age surrounded by a less-than-positive sex education, it might not be as simple. Both situations, and any in between, are normal and totally OK. And if you started young, there's nothing wrong with that either. When it comes to discovering yourself sexually, there is no "normal," according to intimacy and sexuality coach Irene Fehr.
"At a young age (as early as two or three), some kids masturbate because it feels good to touch themselves — not because it is sexual or they are interested in a sexual act," Fehr tells Elite Daily. "In adolescence and later, masturbation might continue to be a pleasurable activity, and it might also arise as a response to sexual tension. Adults who may have enjoyed masturbation from an early age, might feel shy, closed off or ashamed to share the experience of their pleasure and orgasm with another person later in life."
Fehr notes that self-touch and exploration are normal at any age and not something to feel ashamed of. She also says that whatever your early experiences were, it's possible for everyone to develop a healthy relationship with their sexuality in adulthood — and this includes figuring out what you find appealing in the bedroom.
If you're not sure exactly what gets you going, there are plenty of fun and sexy ways to find out. Everyone deserves to have a healthy and satisfying sex life, and the first step to making that happen is getting to know yourself, sexually. This way, you can effectively communicate what you want to your partner(s) and everybody wins. According to experts, here are some ways to uncover your sexual desires.