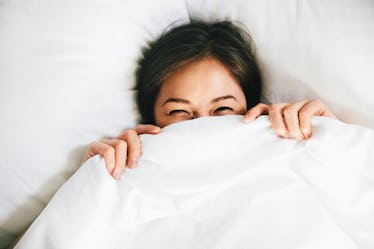 3 Major Signs You're Legit Amazing In Bed & Your Partner Knows It
Whether you're aware of it or not, you don't need to twist your body into complicated positions or moan like a porn star to be great in bed. In fact, the key to amazing sex is actually much easier to achieve than most modern-day media depictions of sex would have you believe. When it comes to signs you're great in bed, it has way more to do with your attitude and how you interact with your partner than your physical technique or skill level.
As long as you're behaving genuinely and are communicating openly, your partner will be into it too. Speaking up about what you want in bed shows self-assurance, which is far sexier (and likely harder to come by) than being able to put your legs above your head. The more comfortable you are in your own skin, the hotter your partner will find you. It's normal to be a little self-conscious about your body or your performance from time to time, but learning to love your imperfections is the only way to build confidence.
Your partner already knows you're great in bed, so it's time for you to know, too. In addition to being yourself, here are three other sure signs you're awesome in bed.