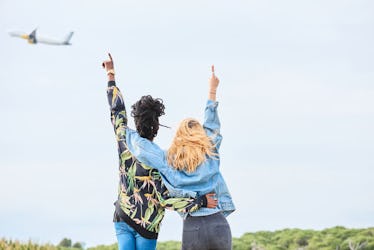 4 Easy Ways To Find Cheap Flights, So You Don't Have To Wait Forever For Your Next Adventure
Your next adventure awaits. You've created your travel vision board, and you're in the process of checking off your 2019 travel resolutions. You've set your sights on an a relaxing beach destination or cozy ski chalet in the mountains, and you're doing the research to make it happen. (You go girl!) You want to see beautiful places, meet new people, and learn about different cultures. No more excuses: This is the year that you're making travel a top priority. So, here's how to find cheap flights in 2019, so that you can be closer than ever to satisfying your wanderlust.
You may be wondering if it's possible to travel on a budget. You often scroll through social media and wonder how all of these people seem to always be on vacation. The reality is that you can totally travel on a budget if you're willing to do the research and get strategic.
Flights can be a huge travel cost, but there are tips and tricks that can help you save a lot of money on flights. Practice makes perfect, so you'll be finding those flight deals before you know it. Until then, these tips will help you get started! Finding a cheap flight is the first first step to crossing those epic destinations off of your bucket list.