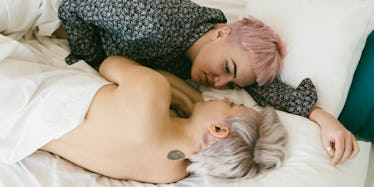 5 Tips For Feeling Confident AF In Bed When You're Not Super Comfortable Naked
Having sex with someone exposes you in a profoundly intimate and vulnerable way. It's the closest you can get to another person physically, and of course there are emotional strings that come along with that, too. Trying to figure out how to feel more confident in bed while also fighting that battle outside the bedroom is no easy feat.
As someone who has deeply struggled with body image basically her whole life, I know firsthand that getting naked in front of someone else for the first time is its own series of nightmares. I've been in situations where I won't let sex happen because of my own body insecurities, which is so difficult when I want things to happen, but am holding myself back from enjoying that experience. When I was getting intimate with my first partner, I was terrified to take off my bra for months – I was nervous about his reaction to my large chest (which I've always found a burden, by the way) and let that hinder enjoying a time that could and should be free of expectations for perfectly perky breasts and a flattering "angle."
To figure out how women can relax during sex, and let go of insecurities and feel comfortable in our naked skin, I spoke with licensed mental health therapist and certified sex therapist Kristin Marie Bennion. She offered her own expert advice, which I know will be helpful to anyone struggling with this, too.