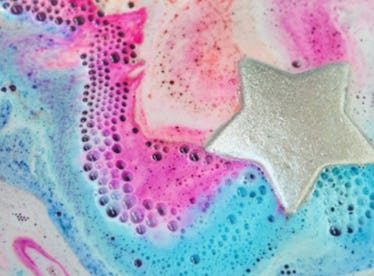 Showing Strangers Your Bathwater Might Win You A Trip To The Lush HQ, & Here's How To Do It
If you're a fan of Lush, you already know that the brand is renowned not only for their colorful, ethically-sourced products, but also for donating to multiple charities and communities. Now, the company is giving back to their devoted Lushies with Lush's Swish Upon a Star Contest. This holiday season you might win a trip to the Lush HQ by showing strangers your bathwater... and I promise it isn't as creepy as it sounds.
To date, Lush has given more than $18 million to over 1,400 grassroots charities in 42 countries through the sale of their super hydrating body lotion, Charity Pot Philanthropic Skin Softener ($8; lushusa.com). If that doesn't sound staggering, the brand also consistently donates a percentage of the sales from FUN products to the Lush FunD, which works to create safe outdoor places for children to play in an area of Japan that was contaminated after a nuclear plant ruptured during an earthquake.
Over the years, Lush has also created various limited-edition products to support numerous charities, like the Vancouver Humane Society, Sea Shepherd Conservation Society, and Freedom to Marry. During these special initiatives, Lush donates 100 percent of sales, minus taxes of course, to support the ongoing work of these organizations.
And now that we're in the season of giving, Lush has decided to give back to all of their loyal Lushies (aka passionate fanatics of the brand, like myself). With Lush's Swish Upon a Star Contest, you can enter to win an exclusive trip for two to explore the Lush HQ factory in Vancouver. Your golden ticket is your bathwater.
No, not your gross, dirty, post-bathing water, silly! Lush wants to see the vibrant, colorful bath art that you can create with their products.
To enter, you must complete the following simple tasks. First, take a picture or video of any Lush product creating colorful, artful swirls in your tub, and upload it to one or all of these social media platforms: Instagram, Facebook, and Twitter. Then, you must tag the brand, @lushcosmetics, and use the hashtag, #swishuponastar. Last, but certainly not least, you must write a caption that includes your Christmas (s)wish. According to the brand's website, they "might just grant" your wish.
The rules are so easy. I already take pictures of my artful Lush baths that I indulge in far too often. Now I'll be doing it for a purpose, rather than just to show all my followers that I bathe in liquid gold.
You're also welcome to enter the contest as many times as you like. The more submissions you post, the more of a chance you have at being the Lush Charlie Bucket. The limit does not exist, so feel free to post as many pictures of your baths as your followers can handle.
If you do win the grand prize, you and a friend will be flown to the Lush HQ in Vancouver, British Columbia, Canada. You'll stay for two nights at a participating hotel and tour the factory during the day. Will you get to see how the bath melts are made? Will you witness the literal magic that goes into their sparkle jars? Who's to say? Only the winner will know.
Lush will also give you two $250 Lush Givex cards for you to buy all the bath bombs and bubble bars you've ever dreamed of. The one hitch is that you must live in North America to participate.
The contest has already begun my friends, so you better get busy bathing. You have until 11:59 p.m. EST on Dec. 5 to enter. The winner will be chosen by 3 p.m. on Dec. 6 and announced on the Lush website.
So good luck to all my fellow Lushies out there. May your bath bomb obsession finally help you win big time.