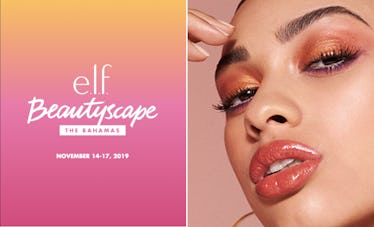 e.l.f. Cosmetics Is Giving You A Chance To Travel To The Bahamas & Possibly Win $10,000
e.l.f. Cosmetics
You know what swiftly takes me from "Oh my God, how do I cancel my subscription to all Mondays ever" to "WOWOW THIS IS THE BEST DAY EVER"? A piece of really good news. I feel really #blessed that I'm sharing that type of news with you today. Right now, I'm gonna tell you how to enter e.l.f.'s Beautyscape contest for a chance at an all-expenses-paid trip to the Bahamas. And those who make it to the Bahamas will then have a chance at winning $10,000 and collaborating with the brand.
Told you that was good news! It's like it's not even Monday anymore; it's e.l.f. day. But anyway, let me break down the details so you can stop reading this and start planning your outfits for the Bahamas. E.l.f.'s Beautyscape Weekend is an annual event bringing together prominent figures in the beauty industry and what the brand calls "(s)e.l.f. made beauty enthusiasts" (that's you!) for a fun, all-inclusive weekend in the glorious Bahamas. This year's contest, taking place from Nov. 14, 2019 to Nov. 17, 2019, is the brand's fourth one yet, and — spoiler — it's gonna be e.l.f.ing amazing. I feel it in my bones.
Entering the contest and potentially winning a trip to the Bahamas is simple. All you have to do is head to the contest landing page here, get familiar with the rules and regulations (yes, those are important), log in on the landing page with your Instagram account, and follow the registration guidelines. After you register, the brand has the following instructions: "Get inspired by the Bahamas and create your best colorful makeup look with a statement eye or lip. Tropical vibes only ;)." Tag yourself; I'm the winky face.
Once you've applied your beachy beat, make sure you follow @elfcosmetics on Instagram. Then, post a photo of your look to your personal Instagram page, tag the brand (in the photo and in the caption), and use the hashtags #beautyscape2019 and #elfcontest. Your post must feature a single, new photograph — no old looks or carousels, you sneaky people. Oh, and you have from now until Monday, Oct. 21, 2019 to post your ~lewk~. On Thursday, Oct. 31, 2019, the brand will announce the lucky 25 winners who'll be jet-setting to paradise.
Before you immediately shut your laptop and bury yourself in 84 eyeshadow palettes, sit tight for a few more housekeeping items, if you will. In addition to completing all of the above to enter, there are a few other requirements. You have to be at least 21 years old at the time you post your entry. I'm so sorry if you're 20 and three-quarters, but I don't make the rules. Next, you have to be a legal resident of either the U.S., Canada (excluding Quebec), or the UK. And one more hot tip: Make sure your Instagram is set to public, otherwise the brand (and everyone else!) won't be able to see your dope tropical look.
I said it before, and I'll say it again: Please give The Rules a thorough read before entering. I literally want you to win so badly, so please follow the rules.
Now, let's say you're one of the lucky 25 beauty lovers being flown out to the Bahamas. Prepare yourself, because the fun (and then competition) doesn't stop there. In addition to a weekend on the beach, hanging with the e.l.f. team and your fave beauty figures, you'll compete with the other 24 winners for a chance to win $10,000 in cash and for the opportunity of a lifetime: to collaborate with e.l.f. on their summer 2020 beauty collection. TBH, I could faint just thinking about all of this because it's so. Freaking. Exciting!
Regardless of the cash prize, though, you'll walk away from the Bahamas with so many new connections, so much new beauty knowledge, and, most likely, a damn good tan. Honestly, those possibilities should be enough reason for anyone to enter, but, if you need another reason, know this: e.l.f. is donating $1 on behalf of every contest entry to UNICEF USA for Bahamas. I mean, come on. You get to create a freaking fire makeup look, rake in those likes on Insta, potentially win a trip to paradise, and help give back to a seriously necessary cause? Get outta here, register for the contest, and bury yourself in those 84 eyeshadow palettes. STAT.