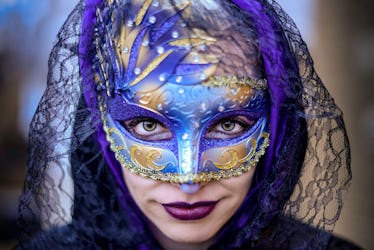 How To Dress Up As Your Zodiac Sign For Halloween This Year
With Halloween just weeks away, it's crucial that we get our ducks in a row, with our autumn decor, and most importantly our costumes, which is why I'm about to reveal how to dress up as your zodiac for Halloween 2018. I know, what would you do without me? Anyway, if you've been stressing on the costume choice, not to worry, we've got you covered. Besides, Halloween is supposed to be fun, although, with social media, it's kind of hard to wing it, especially if you want to take an epic pic for the 'gram, of course.
For the record, Halloween's astro weather is going to be quite interesting, to say the least. The reason I say that is because Venus, planet of love and relationships, will be making a strong opposition to electric Uranus, planet of unexpected change and revolution. So, if you're single and ready to mingle, Oct. 31 may very well be the night you sporadically meet your long lost lover. In fact, with Mercury the messenger sliding into adventurous Sagittarius that same day, chances are, you'll be feeling confident and spontaneous as ever. Are you ready to slay Halloween?
Now let's talk about your costume:
Aries
OK, so how adorably fab are these gold horns? This is all you, Aries. I mean, you could dress these up or down. Depends on your mood, you know? Are you feeling gold and bougie? Maybe you'll throw on a white robe, and make it whimsical. You can do anything.
Taurus
Taurus, you're a child of Venus in the flesh, so who better than you to rock this bomb Aphrodite look? The wig and headpiece are sold separately, so I say you replace it with a flower crown, and a comfortable pair of shoes, because we all know you're going to party.
Gemini
Dr. Jekyll or Mr. Hyde? The best part about this mask is, you can be two people at once, which is so typical of you, Gemini. Again, you can dress this up, and improvise this look however you please.
Cancer
Oh, Cancer. Everyone know you're a crabby crab, and these giant crab claws have your name written all over them. Let's be real, you could full blown dress up like a crab, or simply rock the all black look, along with these sharp little babies!
Leo
So, what if you actually were the king or queen of the forest? Anything's possible, Leo, especially on Halloween. Plus, you can totally be your sassy self with this shimmering number. Are you ready?
Virgo
Despite your mysterious demeanor and critical mindset, you're still a goddess nonetheless. These glittery gemstones will look amazing, and well, that way you can be glamorous while being practical: your fave.
Libra
How adorable is this shell bra top? It sort of reminds me of Aphrodite, aka your ruling planet Venus. You're basically going to slay Lady Gaga's Artpop look. Are you in?
Scorpio
So, the majority of you Scorpios already have tattoos, but how stellar is this bedazzled Scorpion? You don't even have to go crazy on the costume, and all black is always welcome. Duh.
Sagittarius
How could there not be centaur costume? I mean, it's basic mythology, and so perfect for you, Sagittarius! Now, if you're not feeling the centaur look, you can always turn it into a unicorn. Up to you.
Capricorn
My dearest Capricorn, we know how much you love to keep things traditional, and well, here we are. This is epic. Ladies and gentlemen, we have a goat mask.
Aquarius
This glow-in-the-dark body paint is totally groovy. Plus, you can use it to paint your psychedelic zodiac symbol. Time to get wavy, Aquarius.
Pisces
Oh, Pisces. You're forever swimming through the depths of your psyche, and just like your astrological symbol, you are two very different types of mystical sea creatures. So, how about two different color scales? You can use this stencil on both your face and body.