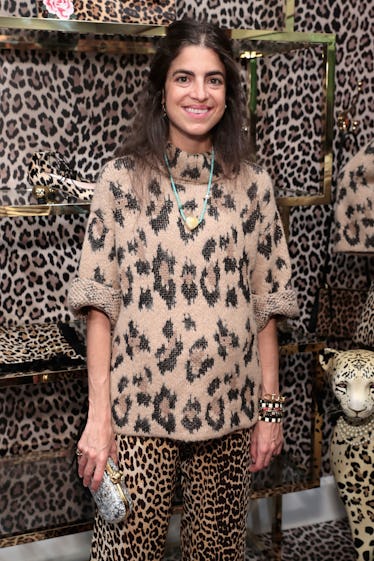 The Man Repeller's Guide To Holiday Style & Gifting On A Budget
Cindy Ord/Getty Images Entertainment/Getty Images
Fashion influencers are a dime a dozen these days, but few possess the writing talents and unique, take-no-prisoners style acumen of Leandra Medine, otherwise known as the Man Repeller. Beloved for her dry wit and sparkling outfits, Medine has become a bonafide celebrity in the fashion world (and a personal girl-crush of mine). Imagine my excitement when I got to pick her brain about how to dress for the holidays and how to gift money, two tasks compounded when you're not preternaturally stylish like Medine.
Man Repeller began as an homage to Medine's personal style and no-f*cks-given attitude towards fashion, and it quickly became her own nickname. Often sporting square-toed shoes, or what she calls "bad pants" — Medine dresses to impress no one but herself. She doesn't believe in wearing sexy, revealing outfits to get attention (hence the site's name), and has little or no interest in how "flattering" an outfit may be. Her style, and general life motto, is to wear and do what you want, no matter what anyone else thinks.
After launching in 2010, practically a prehistoric age for blogs, Medine and Man Repeller are now at the top of the industry. At the ripe age of 28, she regularly collaborates with the coolest of brands. Hopefully that fact will inspire most of you — I'm also 28 and I'm sitting in my pajamas (it's not nighttime) and have yet to feed myself a decent meal today (only coffee and pie), but it's not too late for you.
(Are you picking up on her vibe, yet?)
Check out the style boss' surprising advice on how to look great and gift fabulously this holiday season — on a budget.
Holiday Dressing, Salad Not Included
My first thought when invited to any type of social gathering is, "What am I going to wear?" It's an exciting, albeit daunting prospect, especially if my bank account is nearing empty. Lucky for me, Medine's stance is that you don't need to buy a new outfit for every occasion. "You end up wearing whatever you wear to a couple of parties and then forever these clothes are typecast in your closet as the pieces you wore during holiday season," she tells me. Fair point, as I'm probably not going to wear my shimmery, velour mini-dress and gold-studded boots to work.
Medine recommends spending less money on a festive accessory or two to spice up your existing wardrobe. "Some cheap but sparkly socks, or a velvet headband. I just got a 3-pack from Amazon," suggests Medine.
"These will look great under a pair of satin or sparkly sandals," says Medine.
"For whatever reason, it doesn't feel like the holidays unless I'm wearing a headband," Medine tells me. "Forget minimalism — pair your biggest earrings with your most aggressive necklaces, glue glitter to your eyelids if you have to."
Gifting and Re-Gifting, Shhh...
When it comes to the ritual of holiday gifting, Medine actually prefers to give rather than receive. "I really like giving gifts to people, it always feels so much better than giving stuff to myself," says Medine.
And instead of recommending wood-burning pizza ovens as presents like Gwyneth Paltrow, Medine has her eye on gifts that the rest of us can actually afford, like this chic, cheery Express clutch.
Whenever possible, though, Medine likes to individualize her purchases — she has this particular coat in mind for some lucky lady out there. Alas, there are some people in all of our lives who are simply impossible to shop for. That's why Medine partnered with PayPal to create a modern-day way to give your loved ones what they really want: Money.
"PayPal's new holiday research showed that money was the most-wanted holiday gift for the second year in a row, and more than half of Americans wish they could ask for it in lieu of a traditional gift," Medine tells me. "I co-created these six limited-edition holiday cards that put some fun and personalization into the gift of money, so people can get what they really want." And thus, these hilariously cute e-cards were born.
This year, when your office does a secret Santa or white elephant gift exchange, these cards will definitely come in handy. "The PayPal P2P holiday greetings are actually a good gift coworker to coworker! Like a thoughtful way to say, 'Here's next week's coffee on me'," says Medine. Her personal favorite? "The red sweater design that reads, 'Here's some hot cash for a cold day'." The cute designs take all the awkwardness out of gifting money, and I can't wait to tell my family about them, wink wink.
And if for some reason you receive a present you're less than enthralled with, Medine approves of re-gifting. "If you think someone would enjoy the gift more than you did, have at it. Re-gift," says Medine. Or just ask for a PayPal card in the first place, because you definitely won't want to re-gift that.