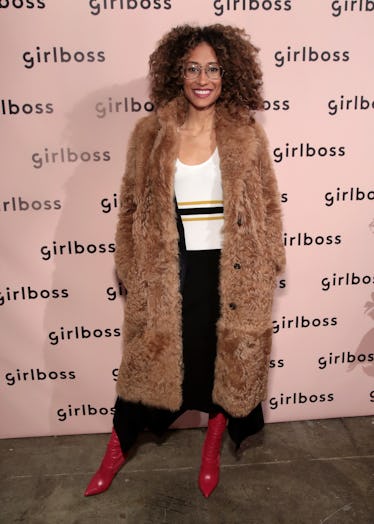 How To Dress To Survive The Bomb Cyclone Winter Storm & Like, Still Look Cute
Cindy Ord/Getty Images Entertainment/Getty Images
I hope you didn't delete the weather app on your phone, because you're gonna need it. Weather outlets are predicting a substantial snow storm that will hit the entirety of the East Coast starting Jan. 3. The next, natural question is, how to dress for the Bomb Cyclone winter storm — unless you were raised in an igloo and feel totally prepared.
A cute winter outfit can be tricky to find — I had my first date with my now-boyfriend in the middle of a snowstorm last year and getting dressed was rough. You obviously want stay warm, but you also don't want to look like the Stay Puft Marshmallow Man. For the sake of this monster of a storm headed your way, I'd say you may want to postpone any first dates and hit your local dive bar with your squad. You'll need more than an alcohol-blanket, though.
If you're looking for someone to tell you to wear four inch high heeled winter boots, you've taken a wrong turn. You can go buy a pair of Sorel Medina IIIs ($90, 6pm) and explain to me how you walk around in those things. I'm a firm believer that when snow and ice are involved, the closer my feet are to the ground, the better.
The key to staying warm in such weather is layering warm pieces. Wearing three pairs of socks will do nothing but cut off blood flow. Same goes for multiple shirts or gloves. Find your most reliably warm clothing, and place no more than two layers on any given part of your body. Warm socks with warm boots, a long-sleeved T-shirt under your warm sweater. I think you get the idea, but I'll elaborate, because you need to stay warm during this the bomb cyclone.
No Heels Allowed
Merrell Women's Mid Polar Waterproof, $129, Merrell
The dusty olive color of these snow boots matches the trendy green coat that literally everyone wears, and if even if you don't, the cool tone adds a pop of hip color in a dark-dominated world. Considering the fact that they contain something called an "impermeable membrane" that seals out moisture, scooping them up for the season is a no-brainer.
Propet Madison Leather Mid Winter Boot, $115, Famous Footwear
Wearing warm socks with your less-than-waterproof boots won't cut it. These non-obvious snow boots have a faux shearling lining, they're salt-resistant, they boast a heat-retaining insole, and most importantly, the leather is waterproof.
Crocs Lodge Point Lace Boot, $49, 6pm
You can also just embrace the winter footwear and go full-on Frozen if you wanna. Crocs makes these snow boots, and they're actually cute? You know, I think they are!
Sock It To Me
Smartwool Popcorn Cable Sock, $18, Back Country
A warm pair of socks makes all the difference. Do not wear your barely-there ankle socks with your winter boots, they'll just slip down your feet and expose your ankles to the winter elements. Not fun.
Muk Luks Women's 18'' Knee High Confetti Cable Sock, $19, Amazon
I like wearing extra tall socks and pulling them up over the leggings that I am also probably wearing. Please don't stuff your boyfriend jeans into socks like these, but if you're wearing slim jeans or leggings, go for it. And under $20 for three pairs of over-the-knee winter socks? Score!
Fleece For Life
Tek Gear Performance Fleece Leggings, $20, Kohls
As mentioned, I'm most likely wearing leggings if it's snowing outside, but not those thin AF leggings I got at American Apparel five years ago. I'm talking about low-key thick, fleece-lined, made-for-winter leggings. Trust me, your legs will thank you. If you don't yet have a pair like this, try wearing a pair of tights underneath your leggings or jeans for an extra layer, but make sure it's not too snug all together or it won't be comfortable.
Getting Handsy
Echo Cozy Tech Glove, $15, Urban Outfitters
I honestly don't understand why anyone would still be buying non-tech gloves. Who in their right mind wants to take off their gloves in the freezing cold to use their phone. Not using your phone is an equally insane option, sorry not sorry. Gloves that go past your wrist are also key.
A New Day Long Studded Leather Tech Touch Gloves, $35, Target
These gloves are the trifecta. Extra long arm coverage to keep your wrists warm, durable leather, and tech touch technology. They're, day I say it, bomb cyclone gloves.
Wrapped Up To Go
Multi Stripe Faux Fur Scarf, $28, ASOS
My rule of thumb for scarves is the bigger the better. The more fabric I have to cover my neck and face in, the better. An ultra-plush scarf like this faux-fur one will keep you extra warm, and it's colorful enough to brighten up your dreary winter day.
Cozy Star Scarf, $35, Gap
Stars are in for 2018, and this one is definitely cozy, it's in the name!
Started From The Bottom Now We're Here
Big Knit Pompom Beanie Hat, $26, Top Shop
I'm a sucker for a good pom pom beanie, throw in the fact that it's fur-free and I'm all set. Whatever your hat style, just make sure to get something that's long enough to pull down over your ears.
Knit Mohair Blend Headband, $7, H&M
A wide-knit headband like this one is a great alternative to ear muffs. It will keep your ears warm, you can layer it with a hat if it's that cold, and it is much easier to fit in your purse than a clunky pair of ear muffs.
Put on your absolute warmest sweater (turtlenecks are your friend), gather up the rest of your winter wardrobe staples, and go frolick!