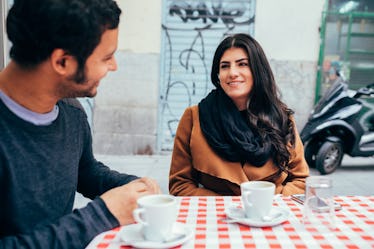 8 Expert Tips For De-Stressing Before A Date If You Tend To Get Really Nervous
As exciting as a first date can be (once you've gotten past the awkward introductions and small talk), the built-up anticipation you experience in the hours, days, even weeks before can be absolutely terrifying. Especially in this day and age, when meeting someone online is becoming more mainstream than, say, having your BFF set you up with a friend of a friend, you never really know what you're getting yourself into on a first date. Before getting yourself all worked up though, you might want to figure out how to de-stress before a date prior to agreeing to one because, trust me, the last thing you want to do is to psych yourself out and bail at the last minute.
Personally, I think the reason people experience first date jitters at all is due, in large part, to the expectation of it all. Even if you're not normally one to wear your heart on your sleeve, agreeing to a first date makes you vulnerable. This could be the start of something new, and no one can fault you for feeling a bit nervous. Matters of the heart can be messy, but they can also be amazing. Worst case scenario: It doesn't work out, so you enjoy a meal, laugh off an hour or so of awkward conversation, and move on.
Easier said than done, I know. If you feel like your nerves will get the best of you, here are a few tips and tricks that'll help you de-stress in the hours, even days, before a first date to ensure you enjoy the experience, no matter how it turns out.