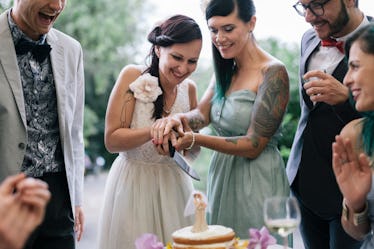 A Social Media Strategist Explains How To Choose The Perfect Wedding Hashtag
So, I have this not-at-all unusual habit of concocting wedding hashtags the second I meet a cute guy. Like, I may or may not have once dated a fellow whose last name was Young and promptly pictured a stream of #ForeverYoung wedding posts on Instagram. Totally cute and normal, right? Right. But we can't all be lucky enough to stumble upon guys and girls with such easily hashtaggable last names — so, naturally, I turned to the experts to find out exactly how to come with a wedding hashtag that's cute, creative, and totally unique to your relationship.
Because hashtags are huge. Back in 2014, more than 55 percent of weddings incorporated them — a figure I'm sure has only increased with time. In addition to being adorable, hashtags are actually a pretty useful tool on your big day.
"There is nothing better than when a couple creates a wedding hashtag," says Samantha Roberts, former social media manager for The Knot. "Most couples love going back through their hashtag during the week after the wedding and taking a look at the photos that were posted from their event that they just spent months (sometimes even years!) planning! A hashtag allows all photos [and] videos to be curated in one place."
That it does — like a wedding album for the digital ages. But the question remains: What's the secret to creating a truly great wedding hashtag (especially with so many already out there in the world)?
"The secret to a great hashtag is something that's easy to remember and punny!" explains Roberts. "There's nothing better than a super creative hashtag. Couples should also let their friends & family know what their hashtag is ASAP by using it on wedding-related social media posts (maybe even the engagement announcement post!), including it on the wedding website, save-the-dates and even at AT the wedding! The more people that know your hashtag, the more likely they [are to] use it!"
With that in mind, here are Roberts' top three tips for creating a genius wedding hashtag for your big day (oh, and if your future spouse happens to have the last name Young, feel free to snag that idea, too!).