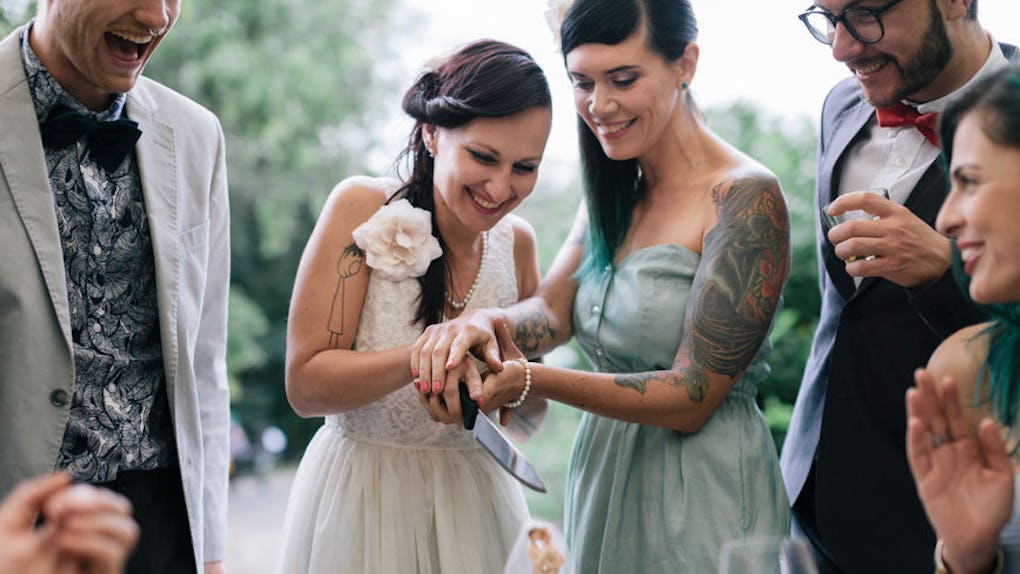 Stocksy/Vegterfoto
How To Come Up With A Wedding Hashtag That Feels Personal, Original, & Memorable
So, I have this not-at-all unusual habit of concocting wedding hashtags the second I meet a cute guy. Like, I may or may not have once dated a fellow whose last name was Young and promptly pictured a stream of #ForeverYoung wedding posts on Instagram. Totally cute and normal, right? Right. But we can't all be lucky enough to stumble upon guys and girls with such easily hashtaggable last names — so, naturally, I turned to the experts to find out exactly how to come with a wedding hashtag that's cute, creative, and totally unique to your relationship.
Because hashtags are huge. Back in 2014, more than 55 percent of weddings incorporated them — a figure I'm sure has only increased with time. In addition to being adorable, hashtags are actually a pretty useful tool on your big day.
"There is nothing better than when a couple creates a wedding hashtag," says Samantha Roberts, former social media manager for The Knot. "Most couples love going back through their hashtag during the week after the wedding and taking a look at the photos that were posted from their event that they just spent months (sometimes even years!) planning! A hashtag allows all photos [and] videos to be curated in one place."
That it does — like a wedding album for the digital ages. But the question remains: What's the secret to creating a truly great wedding hashtag (especially with so many already out there in the world)?
"The secret to a great hashtag is something that's easy to remember and punny!" explains Roberts. "There's nothing better than a super creative hashtag. Couples should also let their friends & family know what their hashtag is ASAP by using it on wedding-related social media posts (maybe even the engagement announcement post!), including it on the wedding website, save-the-dates and even at AT the wedding! The more people that know your hashtag, the more likely they [are to] use it!"
With that in mind, here are Roberts' top three tips for creating a genius wedding hashtag for your big day (oh, and if your future spouse happens to have the last name Young, feel free to snag that idea, too!).
1. Host a group brainstorm.
First things first: Don't be afraid to turn to your friends and family for some hashtag-creating assistance, especially if any members of your wedding party are particularly imaginative or clever. And if no one in your crew is particularly skilled with the words, turn to the good people of Reddit for a little inspiration.
"Get creative with this," suggests Roberts. "Start brainstorming with your names (including the last name of the groom if the bride is taking it!), wedding location, wedding date and don't be ashamed to ask family [and] friends (or even the Wedding Planning subreddit) for help!"
2. Double-check that it's totally new.
"The most important thing is to make sure that someone else isn't using that hashtag," says Roberts. "You want a wedding hashtag that is completely your own, so when you brainstorm a hashtag — double-check that no one has used it before!"
I feel like this advice is especially useful if you and your soon-to-be spouse have names like Harry and Meghan or Ross and Rachel. After all, you don't want all of the photos from your big day to be buried by another happy couple's posts, you know? Type your hashtag ideas into Instagram's search bar to make sure they're not already taken.
3. Bring in the pros.
While you definitely don't want to copy any wedding hashtags that are already out there, there's no harm in seeking out inspiration from the hashtags of weddings' past. Roberts suggests checking out services like Happily Ever Hashtagged as well, who can you help you come up with one (or several!) hashtag ideas for your wedding day, bachelorette party, etc., and have a handful of examples on the site.
"Marielle Wakim of Happily Ever Hashtagged comes up with some of the most creative, fun & personalized hashtags I've ever seen!" Roberts notes. "She has some incredible examples on her website."
Of course, a hashtag is just one little piece of the puzzle when it comes to your wedding — the most important bit is that whole "spending the rest of your life with someone deal," so don't stress if you feel like your hashtag isn't quite perfect. That said, I'm sure you and your betrothed are full of bright, brilliants ideas and will come up with something that's just right for you two (if you keep Roberts' tips in mind!). Happy hashtagging, lovebirds!