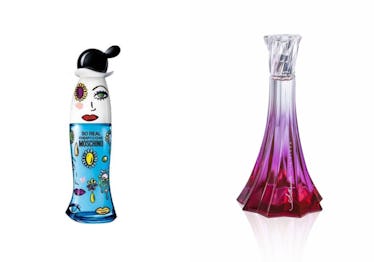 The Perfume You'll Want To Spritz All Winter Long, Based On Your Zodiac Sign
Perfume has the power to influence your mood. Somehow, when we smell a fragrance, we can immediately tell if it's happy or clean or sexy. So if you want to further embrace your birth-given astrological sign, why let what's already written in the stars guide you in how to choose the best perfume? Might as well let your enemies know a Leo's coming through strong scents of cocoa and rum from over a mile away.
Fragrance is highly personal. What smells delicious to one human being might smell like a literal heap of hot, steaming garbage on a humid New York City summer's day. With hundreds of fragrances to choose from, finding the perfect one to express your personality might prove daunting.
If you're having trouble deciding between the Tom Ford Noir Pour Femme and Pinrose Gilded Fox, let your zodiac sign be your guide. If you want to reinforce how others see you, choose your rising sign as your muse. If you want to express your unbridled personality, let your sun sign be your guide. Whether its a rose and coffee-based cologne or a tobacco and honeysuckle-influenced scent, there truly is something for everyone. So what are you waiting for? Give your nose a break and let the stars do the picking.
Aquarius
Tory Burch Bel Azur, $125, Sephora
This fresh scent represents the place where the sky meets the sea, which is perfect for you Pisces. You're an air sign and water bearer, so all these elements must be represented in your signature fragrance. Bergamot, Neroli, and Peony will wake you up and entice your senses.
Pisces
Moschino So Real, $69, Sephora
You need a fragrance just as creative and imaginative as you, Pisces. Raspberry and Blackerry Sorbet, Magnolia, Oak Moss Accord give the fragrance its complex, intriguing scent. Plus, the packaging is to die for.
Aries
Gourmand EDP Fragrance in Oud Sahara, $18, Urban Outfitters
Bergamot and exotic wood will keep the spicy Aries ahead of the curve. The price point doesn't hurt either.
Taurus
Elizabeth and James Nirvana Bourbon, $84, Sephora
Notes of Tuberose, Oak Wood, and Bourbon Vanilla will warm the heart of any Taurus. The scent will make you feel right at home wherever you are.
Gemini
Atelier Cologne Café Tuberosa Cologne Absolue Pure Perfume, $165, Sephora
Notes of Indian Tuberose and Espresso Coffee Accord contrast playfully and create a scent that's almost as unique as you.
Cancer
Commodity Rain, $105, Sephora
Let your emotions run like water with this Rain fragrance from Commodity. Snuggle up with a good book, gaze longingly out the window, and let the rain fall down. Dewy Melon, Daffodil, and Watermint are only a few of the unique notes in this very individual fragrance.
Leo
Pinrose Gilded Fox, $65, Sephora
You're golden, Leo, and the world needs to know too. Vetiver, Cocoa, and Rum will give you have all eyes, and all noses, on you.
Virgo
Jo Malone London Peony & Blush Suede Cologne, $135, Sephora
Red Apple, Peony, and Suede give this fresh scent an edge. It's clean and sweet, but seductive.
Libra
Christian Siriano Silhouette in Bloom, $94, So-Avant-Garde
This new fragrance from Christian Siriano is bubbly and effervescent, just like you Libra! Notes of Pear Leaves, Pink Pepper, and Italian Mandarin keep it light, but intriguing.
Scorpio
Tom Ford Noir Pour Femme, $122, Sephora
Fellow Scorpios, we need a scent worthy of our sex appeal, and no one does sexy quite like Tom Ford.
Sagittarius
Juliette Has A Gun Not A Perfume, $135, Sephora
You're always up for an adventure, Sagittarius, and his fragrance is a trip in itself. It only contains one note, Cetalox, which smells different on everyone.
Capricorn
Tocca Giulietta, $72, Sephora
You keep is classy and classic, Capricorn. So why not try Giulietta on for size and embrace the elegance of this fragrance. Notes like Green Apple and Pink Tulips will keep you feeling fresh and fine all day long.
So if you're in the market for a new fragrance, don't just got for the highest-rated on Amazon. Let your zodiac influence your scent and show the world what you're made of.