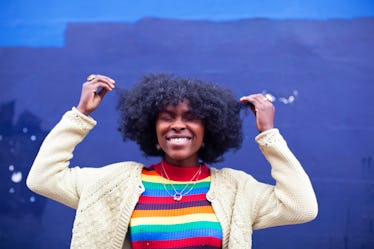 A Dating App Photographer Gives 6 Tips For Choosing The Best Profile Pics
There's a subtle art to crafting the perfect dating app profile. You want to present the best version of yourself, but you also want to look relatable enough that people will want to know more about you. It's not an easy balance to strike. If you're wondering how to choose dating app photos that aren't overly curated, awkward, or embarrassing, you're not alone. Should you use that selfie you took during golden hour last week? Your work company headshot? Your latest Tik-Tok dancing video?
Saskia Nelson, founder of Hey Saturday, knows a thing or two about selecting great dating app photos. Her business specializes in helping people take photos for their dating app profile that represent their truest selves. "We live in a visual world, and great visual content is the primary thing that drives engagement," Nelson tells Elite Daily. "The main goal, when it comes to swiping, is to engage people with your dating profile. If you create it using good images, you'll massively increase the number of visits to your profile, which in turn will lead to more quality dates. It's a win-win."
To help you get more matches and feel more confident, Nelson provided her best insider tips for choosing your dating app profile photos. It's easier than you'd think — start by being yourself.