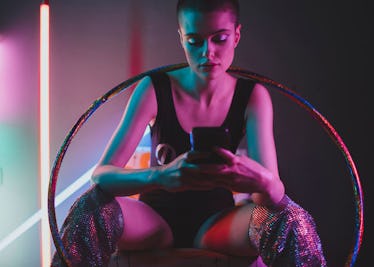 7 Shocking Stories About Being Catfished That You'll Gawk At
As Forrest Gump would say: Online dating is almost like a box of chocolates ⁠— you don't always know what you're going to get. While using dating apps is a wonderful way to get to know new people, you should still use caution when talking to a stranger on an app. Not everyone will have honest intentions, and sometimes, people may not be who they say they are. Fake profile pictures are just the start, and these stories about being catfished prove that it's important to use your very best judgment.
Catfishing, while unfortunate, happens more often than you might think. In fact, a whopping 54% of people who use online dating platforms and apps think they've come across someone who lied in their profile, according to Scientific American. It truly can happen to anyone, from your college roommate, to the internet's boyfriend, Noah Centineo. The actor was vocal about his experience with catfishing while promoting his Netflix original rom-com, Sierra Burgess Is A Loser. In an interview with BuzzFeed, Centineo described the situation, saying, "I developed this, like, what I thought was like, you know, an intimate relationship with someone. And we were just like talking and really getting to know each other, and it turned out that they just were not who I thought they were. I still don't know to this day who they were."
The actor is far from the only one. These real stories from Reddit users might make you think twice before revealing too much online. Read on, and remember: Swipe carefully.