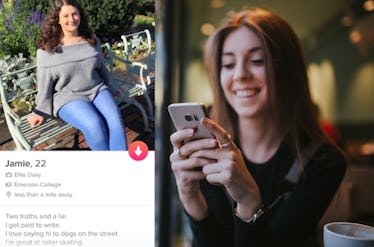 I Had A Dating App Expert Analyze My Tinder Profile & Her Changes Were So Effective
As a dating writer — and as a single woman living in New York City — I'm constantly tweaking my dating app profiles. I test different pictures and new bios in an effort to get more matches, have more engaging conversations, and hopefully go on more dates. An improved Tinder profile doesn't mean catering to what you think potential matches want to see; it's all about portraying your best self. You want to express your personality in a way that helps other people to recognize how amazing you are.
To help me do just that, I enlisted the help of Meredith Golden, online dating expert and founder of SpoonmeetSpoon. Golden is a dating app ghostwriter who swipes on her clients' apps for a living, so she really knows her stuff. She analyzed my Tinder profile and let me know what aspects were working in my favor, and what elements could be improved. After implementing the changes, I saw immediate results.
Her advice is always specific to the client, so while some of these changes may be applicable to you, it's important to remember that your dating app profile is particular to you as an individual. If my experience working with an online dating expert taught me one thing, it's that you want your profile to be as unique as you are. So by all means, learn from my mistakes. Just know that what works for one person may not always work for another. If you're interested in some personalized feedback, you can always work with Golden yourself. She's basically a fairy godmother for online dating.
Golden's first order of business was to look through my pictures. She saw that I had my Instagram connected to Tinder, so she scrolled through there and picked out a few photos she liked better. She explained that the photos she cut weren't as flattering as they could be, and she wanted to show off my most attractive qualities. "Some of your pictures convey how adorable you are and work for you," she said. Others, not as much.
She cut my six previous selections down to five, keeping two and swapping out three. For my first photo, she chose one of me posing on a garden bench, smiling in a grey sweater and jeans. "My goal when you're talking to someone on Tinder is for them to swipe right on you," she said. "I want that first picture to hit it out of the park." She emphasized that I looked pretty and radiated positivity in this picture. Plus, she liked that I was seated so my figure is visible.
She also advised me to disconnect my Instagram and protect my privacy. We talked about how usually a person will only look through a potential match's Instagram if they're on the fence about swiping right or left. For most people, a few featured photos are enough to make a decision. "I would rather you just put your best foot forward," Golden told me. "You bring a lot to the table with four or five fabulous pictures. Disable your Instagram so you can control what you're putting out there."
We settled on three solo pics, one of me and my mom to show I'm close with my family, and one photo that didn't have me in it at all. This was a surprise to me, and Golden said she wouldn't do this in all instances. In my case, though, she thought a photo of my bookshelf really showed my personality and made for an interesting talking point.
"I want your profile to be a comprehensive story about you that still portrays you as being attractive," said Golden. "I'm not having you eating a burrito with food hanging out of your mouth in any of the pictures, which I see all the time and I have no idea why people do that. I want to show that you have personality and that you're approachable and engaging."
Then we moved on to my bio, which Golden thought was funny, but not personal enough. I was actually still using one I had previously crafted for an article about Tinder bios: "Looking for a partner in crime. Must enjoy long walks in the park, be extremely loyal, and always get excited when I come home from work. Bonus points if you're actually a dog."
Especially because we disconnected my Instagram, she wanted me to mention things about myself. "I would focus more on you. There's a technique I borrow from Hinge: two truths and a lie. You can put that on your description on Tinder, because it generates a conversation," she said. (Hinge uses a number of different prompts to help you fill out your profile, and two truths and a lie is a popular choice.)
We chose two basic, but interesting facts about me, and made up a third. We said that I'm great at roller skating, which I'm definitely not, but it's not a claim that's out of the realm of possibility. Golden said that this approach makes it really easy for even the laziest guy to send me a message guessing which one is the lie. "In the profile description, I want someone to have something to talk to you about," she said. "I want the guy to start and I want to give him some data. Two truths and a lie is an easy way to do that."
Next up were my preferences. I had my radius set to 10 miles, which she said was a good distance from my home in Manhattan. She thought it was important to reach the other boroughs of the city, plus the adjacent city of Hoboken, New Jersey. "We don't need to do like 30 miles to take us to the suburbs, because at 22, you're not dating someone who's got kids," she said.
Ten miles in the city feels like a lot, since I typically find that my matches are usually only two or three miles away. I would be open to dating someone who lives farther, and I don't want to miss out on someone great just because I'd prefer not to take the subway.
My age range was from 22 to 28 (I'm 22), and Golden suggested I bump up my maximum age to 32. "I know that sounds totally creepy from where you sit at 22, but I think women tend to mature faster than guys," she said. She explained that a 30-year-old guy who has a great career and is looking for an equally great relationship is likely to open up his search to include much younger women. In order for us to be on each other's radars, I needed to increase my age preferences to include older men. "It opens up your dating options. He's 30 or 31 but you're in the same stage of life," said Golden.
I see her point, though I am a little concerned we wouldn't have much in common. She told me that I would likely freak out the first time I went out on a date with someone who is over 30, but after five or so dates it wouldn't feel like a big deal. I haven't set one up yet, so I'll have to keep you posted.
I made those changes and got to swiping. I'm not exaggerating when I say I saw results right away. I matched with one guy, and he immediately messaged me saying, "Is that a Harry Potter bobblehead?!" about the picture of my bookshelf. Then, he took on my two truths and a lie (and got it right). A few other guys also messaged me first trying to guess the lie in my bio.
I feel like I'm getting better quality matches, and more engaging messages from those matches. Men are messaging me first more than they did before. I've set up three actual dates already. Matching with older guys feels more serious, but not in a bad way. They're asking me on legitimate dates to dinner or the movies, rather than just expecting to come over to my place and hook up.
Talk about an eye-opening experience. I never would have thought to make some of these changes on my own, but they're already paying off.
Check out the entire Gen Why series and other videos on Facebook and the Bustle app across Apple TV, Roku, and Amazon Fire TV.
Check out the "Best of Elite Daily" stream in the Bustle App for more stories just like this!