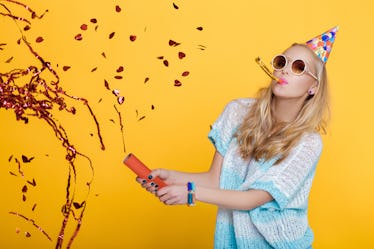 13 Ways To Celebrate Your 25th Birthday Alone, Because You're A One-Girl Party
Another year, another birthday to celebrate. By now, you've had 24 terrific birthdays with 24 unique ways of celebrating. You've thrown yourself big parties for everyone you know, and small get-togethers with just your squad. There have also been at least a dozen birthday dinners. Basically, you've done it all, but this year, you're looking for something different. When thinking of who you want to invite to your big day, there's no one you'd rather have than just your independent, fabulous self. If that's the case, you might be wondering how to celebrate your 25th birthday alone.
A "me party" is really all you need for the perfect day. Sure, you may want another celebration with your besties, but sometimes, you just might want to have some "me time," and celebrate the day doing exactly as you please. Let everyone know you're taking it easy this year, and having some much-needed solo fun. I actually love spending time with me, myself and I. It's when I get to do everything I want to do at my own pace. It's a guarantee that my day goes exactly as I planned.
25 is a big year. You've reached your mid-20s, and are in hardcore adulting mode. For such an important year, you need the most positive and self-empowering day to celebrate, so I would suggest doing any of these 13 things if you choose to celebrate solo on your birthday.