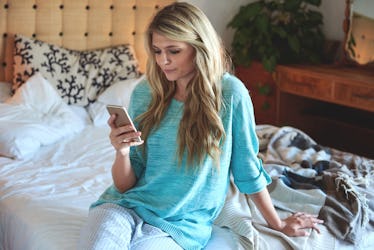 How To Cancel Plans With A Coworker Via Text, Because Life Happens
You've been in that limbo before: You had your second cup of coffee at lunch, so when your coworker asked you to hang out later and grab a drink, you were super energized and agreed. Once you got home, you put on your sweats and realized you're too comfy, and just don't feel like going out. You don't want to seem like a flake or sever ties, so you need to know how to cancel plans with a coworker over text, if anything, so you don't feel so guilty about it after.
It's no fun having beef with your coworker because of a poorly-worded text, or not reaching out at all when you can't make it to plans anymore. You have to see them every single day of the workweek, so you might as well keep the peace. Canceling plans happens, but there's a way to do it so your coworker doesn't take it the wrong way.
Because no two coworkers are exactly the same, you'll have to tailor your text toward the type of relationship you have with them. Is this your first time hanging out outside of work, or have you hung out before? Are you worried they'll think you're bailing on them because you don't like them? Do you not want you work friends to think you're lame? Either way, Elite Daily reached out to relationship and etiquette expert and author, April Masini, who runs her own relationship advice forum, to get some insight. Her tips on umbrella texts to send offer the perfect solution to get you out of plans and back on the couch.