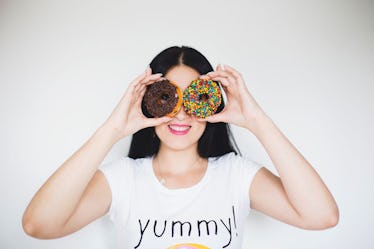 Experts Reveal How To Bounce Back From A Sugar Crash When All You Want To Do Is Sleep
If you ever watched Willy Wonka and the Chocolate Factory as a kid (the Gene Wilder version, duh), then you probably thought the sugar haven was a dream come true. What could be better than a chocolate river, lickable sugary wallpaper, and everlasting gobstoppers? As appealing as the colorful sweets are to look at on TV, though, in reality, going to town on a mountain of candy is likely to lead to an energy crash. However, this doesn't mean you have to say goodbye to your beloved Ben & Jerry's. Knowing how to bounce back from a sugar crash will help you manage the aftermath of spectacular desserts so that you don't feel like passing out as soon as the sugar high wears off.
So what's actually happening inside your body during a sugar crash? According to Reader's Digest, as sugar floods your bloodstream, your pancreas releases insulin to control blood glucose levels. This glucose is then rapidly digested, and your spiked dopamine (aka a neurotransmitter that regulates feelings of pleasure) and blood sugar levels fall quickly. In other words, the high sugar levels basically throw your body's balance totally out of whack.
According to Sydney Greene, a registered dietitian at Middleberg Nutrition, there's no magic number of sugar grams that will lead to a guaranteed crash. "Someone's activity level, hormone production, and the type of sugar they're consuming all contribute to blood sugar peaks and valleys," she explains to Elite Daily over email. But a pretty good rule of thumb is sticking to foods with only about four to eight grams of added sugar, Greene recommends.
Trial and error are ultimately your best bet to figuring out what causes your body to have a sugar crash, though, says registered dietitian, nutritionist and Arivale coach Ginger Hultin. "Each person should listen to their body to determine what works best for them," she tells Elite Daily. "Individualizing is so critical. Each person is very different."
And while the same goes for finding the best ways to bounce back from a sugar crash, here are a few general guidelines to follow the next time you're riding the struggle bus after treating yourself to a box of donuts.